EURUSD Technical Analysis
EURUSD : An Elliott Wave Zig-Zag pattern is a 3 wave (A,B,C) pattern consisting of a 5-3-5 wave structure. 5 waves for the wave A, followed by 3 waves for wave B and finally another 5 waves for wave C to complete the Zig Zag pattern. The Zig Zag pattern is a counter trend pattern and goes against the main trend so trading this pattern a trader should always use tight stops. Traders also need to watch price action for confirmation if the pattern will ultimately form.
EURUSD 1 Hour Weekend Chart 12.7.2019 : Start of the trading week of December 8 – 13/2019 we advised our clients that a Zig Zag pattern has formed and that the pair would push higher. We advised that the wave (b) 3 wave pullback has terminated and to watch for the next rally higher. EWF clients were clear that the trade to the upside was the choice to take. Only a move lower below the invalidation level would cancel the upside move.
Before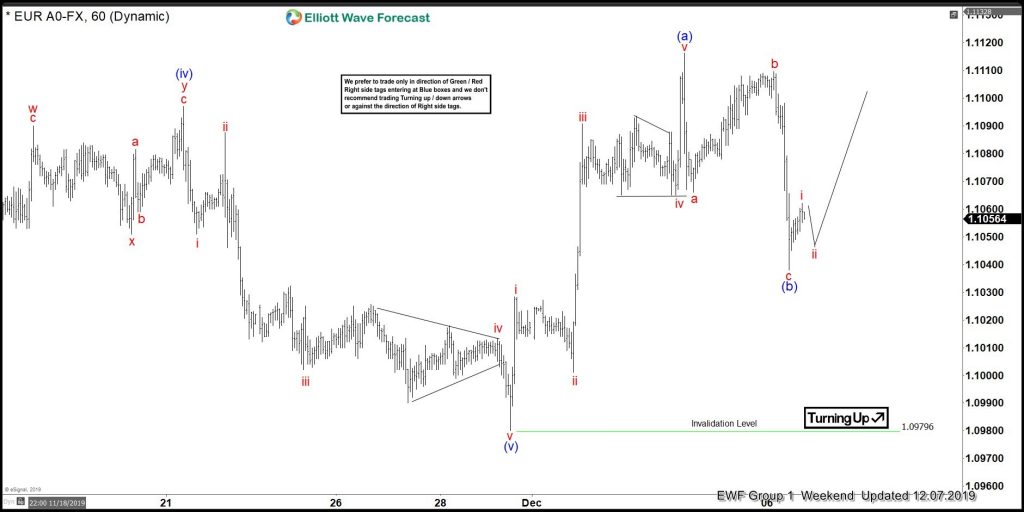 EURUSD 1 Hour Chart 12.14.2019 : Using other strategies/techniques as trading filters allows a trader to enter the market with confidence. Trading filters are rules/signals that need to be met before entering the trade. The chart below shows how a trader could have entered the BUY trade waiting on price action confirmation. Filters consisting of bullish divergence, a higher high/higher low sequence (HH/HL), support/resistance zones and an Elliott Wave Zig Zag pattern is what I used to catch the breakout trade higher which eventually hit the 1:3 RR and completed the 5-3-5 pattern.
After