In the ever-evolving landscape of dental technology, Align Technology, Inc. (NASDAQ: ALGN) stands out as a pioneering force. With its groundbreaking solutions and customer-focused approach, ALGN has garnered significant attention and market momentum. This article delves into the bullish prospects for Align Technology, examining the unfolding Elliott Wave pattern within its daily cycle.
Since reaching its all-time high of $737 in September 2021, Align Technology experienced a two-year decline, losing 76% of its value. However, in November of last year, the stock established a significant low at $172. Since that low, the stock embarked on an initial impulsive move to the upside, marking the beginning of wave I. This shift in behavior was further evident as the subsequent pullback took the form of a corrective three-wave pattern (Zigzag Structure) in wave II.
The stock has since resumed its upward rally, approaching the February 2023 peak. A break above this level would establish a bullish sequence within the daily cycle from the 2022 low. Establishing a higher high sequence is crucial for ALGN, targeting the $471-$593 area. A rejection there may lead to a sideways correction, but a break above $600 signals further upside potential, challenging the previous all-time high.
In summary, ALGN is embarking on a new bullish cycle, with the initial major structure expected to form over the coming months. Investors await a breakout above the 2023 high as a confirmation, while traders seek buying opportunities during corrective pullbacks.
ALGN Daily Elliott Wave Chart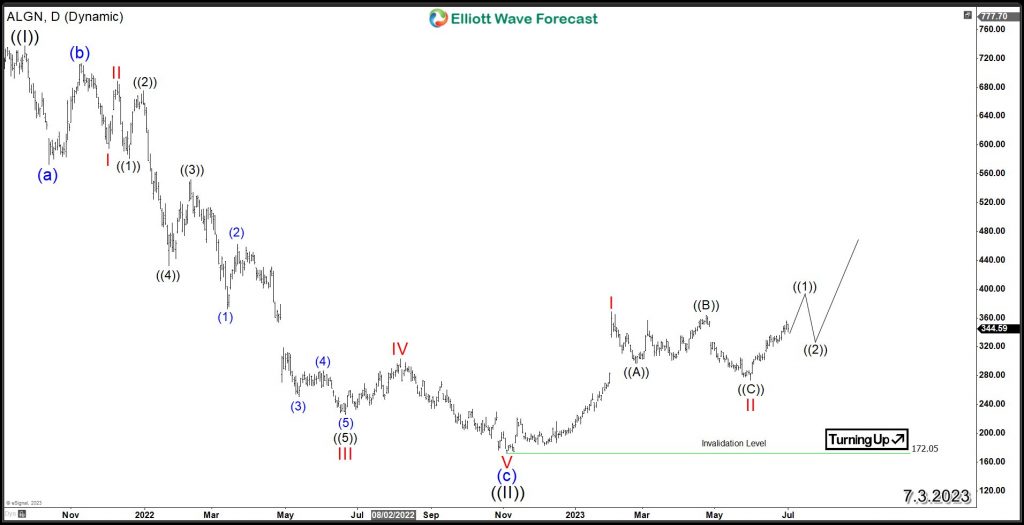 Source: https://elliottwave-forecast.com/stock-market/algn-promising-signs/