Fresenius Medical Care is a German American healthcare company. It is one of the four devisions of Fresenius SE & Co. KGaA. The company provides kidney dialysis services and treats end-stage renal disease. Today, it has 38% share of the dialysis market in the US. Fresenius Medical Care operates 42 production sites, mainly in the US, Germany and Japan. Founded in 1996 and headquartered in Bad Homburg vor der Höhe, Germany, Fresenius Medical Care is a part of DAX40 index. One can trade it under the tickers $FME at XETRA and $FMS at NYSE.
In the initial article from October 2021, we have explained that more price downside should take place. This was due to bearish sequence. Also we have provided the area lower. Now, we see that the prediction was right. $FME has extended lower and offers long-term investors a great opportunity to enter the market shares. Here, we provide an update.
Fresenius Medical Care Monthly Elliott Wave Analysis 11.21.2022
The monthly chart below shows the Fresenius Medical Care stock $FME traded at XETRA. From all-time lows, the stock price has developed an Elliott wave motive wave pattern. The cycle up in black wave ((I)) being of grand super cycle degree has ended by printing its top at all-time highs in February 2018 at 93.82. Within the grand super cycle ((I)), the blue wave (III) of super cycle degree is an impulse showing an extension as related to the waves (I) and (V).
From the February 2018 high, a consolidation has started and is still in progress. First, a cycle lower in 3 waves has ended in January 2019. Then, from the 55.44 low a rally has failed to make a new high. After 3 waves of blue wave (x) ending in February 2020 at 81.10, $FME has broken below 55.44 low. As a matter of fact, this has opened a bearish sequence. As a consequence, while the price holds below 81.10, one has expected $FME to trade lower into the 42.67-18.87 area. Indeed, the area has been reached. On the one hand, another one or two lows can happen. On the other hand, long term investors can see Fresenius already trading at very attractive price levels.
Therefore, investors and traders can buy Fresenius medical care from 42.67-18.87 area expecting a long-term rally to the new highs. The target in the black wave ((III)) will be towards 119-178 area in case of reaction from 25.95 level.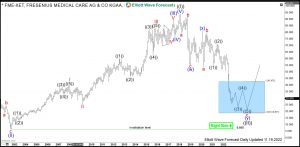 Source: https://elliottwave-forecast.com/stock-market/fresenius-monthly-buying-area/