On March 8 2021 I posted on social media @AidanFX "AUDJPY LONG at 83.40 Stop Loss at 82.77 Target 84.03 – 84.34 area." and "AUDJPY 2nd LONG at 83.43 Stop Loss at 83.12 Target 83.74 – 84.03 area."

The chart below was also posted on social media @AidanFX March 8 2021 showing several clear bullish market patterns. Blue bullish pattern already triggered BUYERS at the BC 0.50% Fib. retracement level. After triggering BUYERS at the BC 0.50% level the pair also found a support/resistance zone (blue box) where price bounced higher from. Pink bullish pattern also triggered buyers in the same support resistance zone. Added bullish patterns (light blue) also triggered buys with bullish divergence patterns (black) signalling traders that BULLS had control. All these bullish patterns was all I needed to be confident on posting the LONG/BUY trade setup March 8 2021 for a move higher.
AUDJPY 1 Hour Chart March 8 2021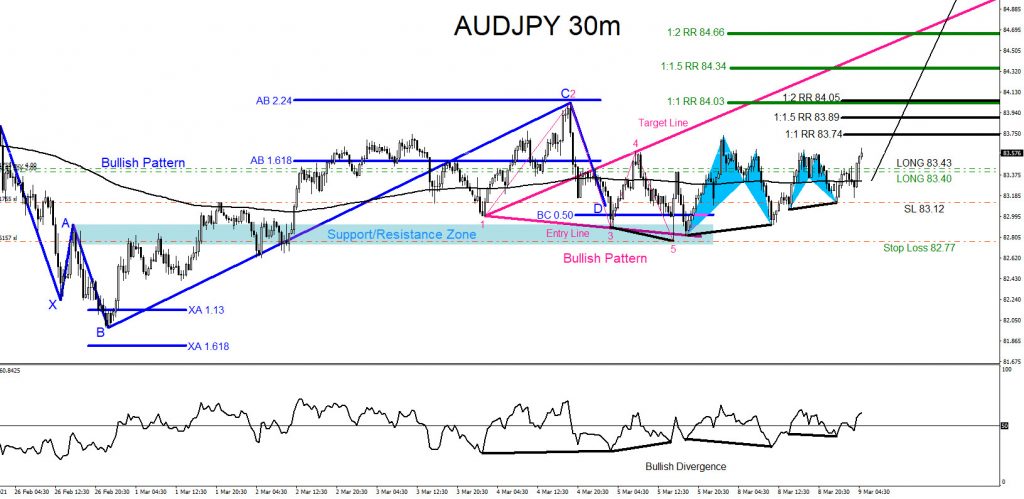 In the chart below, the pair formed a bullish flag breakout pattern (blue) and on March 10 2021 I added another LONG position (purple 83.80) on the break above the flag pattern.
AUDJPY 1 Hour Chart March 10 2021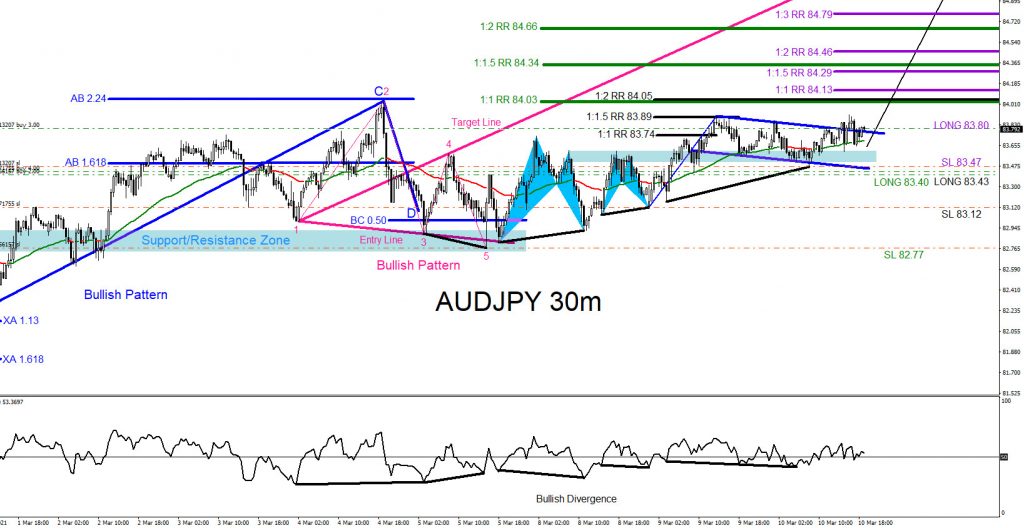 AUDJPY eventually moves higher and on March 11 2021 price hits the black LONG 1:4 RR target at 84.67 from 83.43 for +124 pips and green LONG 1:2 RR target at 84.66 from 83.40 for +126 pips. Purple LONG entry also hit 1:2 RR target at 84.46 from 83.80 for +66 pips. If you followed me on social media @AidanFX you too could have caught the AUDJPY move higher. We at EWF never say we are always right. No market service provider can forecast markets with 100% accuracy. Only thing we at EWF 100%, is that we are RIGHT more than we are WRONG.
AUDJPY 1 Hour Chart March 11 2021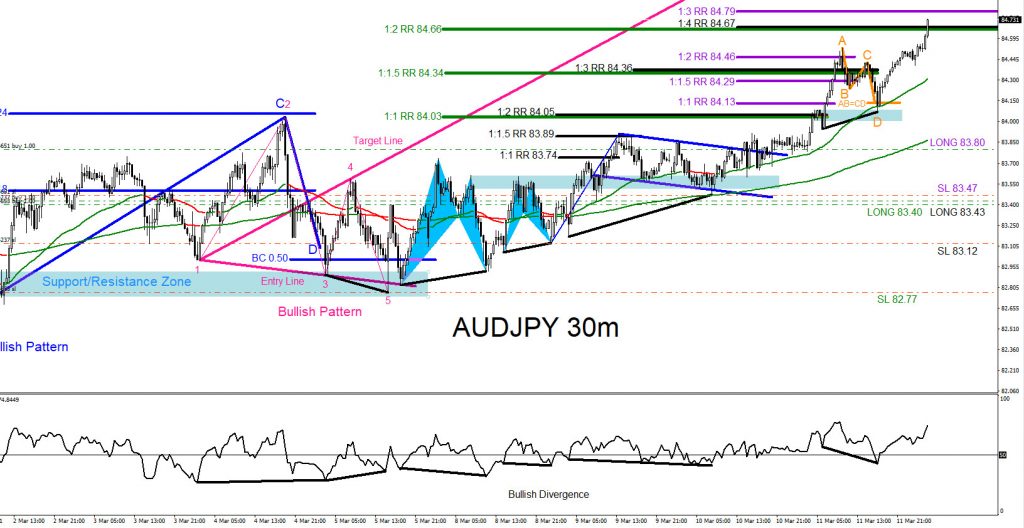 Of course, like any strategy/technique, there will be times when the strategy/technique fails so proper money/risk management should always be used on every trade. Hope you enjoyed this article and follow me on social media for updates and questions> @AidanFX
At Elliottwave-Forecast we cover 78 instruments (Forex, Commodities, Indices, Stocks and ETFs) in 4 different time frames and we offer 5 Live Session Webinars everyday. We do Daily Technical Videos, Elliott Wave Trade Setup Videos and we have a 24 Chat Room. Our clients are always in the loop for the next market move.
Source: https://elliottwave-forecast.com/aidans-corner/audjpy-bullish-market-patterns-calling-move-higher/