In this technical blog, we are going to take a look at the past performance of 1 hour Elliott Wave Charts of the DAX index. In which, the rally from 30 July 2020 low unfolded as an impulse 5 wave structure. Thus suggested that it's a continuation pattern. And as per Elliott wave theory after a 3 waves pullback, it should do another extension higher in 5 waves impulse structure at least. Therefore, we advised members not to sell the instrument & trade the no enemy areas ( blue boxes) as per Elliott wave hedging remained the preferred path looking for 3 wave reaction higher at least. We will explain the structure & forecast below:
DAX 1 Hour Elliott Wave Chart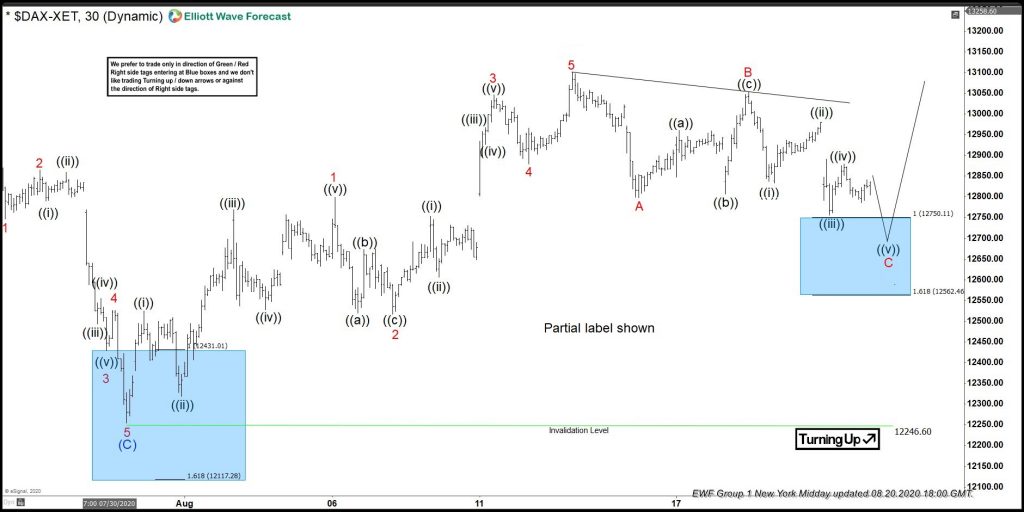 DAX 1 Hour Elliott Wave Chart from 8/20/2020 NY Midday update. In which, the pullback in wave ((4)) completed at 12246.60 low. Up from there, the index rallied in 5 waves impulse structure where wave 1 ended at 12799.21 high. Wave 2 ended at 12517.44 low, wave 3 ended at 13046.13 high, wave 4 ended at 12965.40 low. While wave 5 ended at 13101.12 and thus completed wave (1) of ((5)).
Down from there, the index made a 3 wave pullback to correct the short term cycle from 7/30/2020 low (12246.60) within wave (2). The internals of that pullback unfolded as a zigzag structure where wave A ended at 12797.52 low. Wave B ended at 13052.84 high and wave C was expected to reach 12750.11- 12562.46 100%-161.8% Fibonacci extension area of A-B. Then from there, the index was expected to start the next leg higher or to do a 3 wave bounce at least.
DAX 1 Hour Elliott Wave Chart