Holly Corporation and Frontier Oil merged in July 2011 to form HollyFrontier Corporation (NYSE: HFC). The company is a petroleum refiner and distributor of petroleum products, from gasoline to petroleum-based lubricants and waxes.
Over the past 2 years, Hollyfrontier Corp performed better than majority of its peers in the Oil & Gas Refining and Basic Materials sector. Its stock price is already up 34.4% year-to-date and still expected to see more gains as Oil price is also up 20% this year which helped the petroleum companies to perform well recently.
In the below chart, we can notice that HFC and CVR Energy (NYSE: CVI) are closely correlated together. They shared the same cycle from 2013 peak then the current one from 2016 low. However, in the recent 2 months, HollyFrontier managed to outperform with a strong move to the upside breaking to new all time highs despite CVI being one of the leading stocks in Energy sector in recent 2 years and showing an impulsive structure but failed to do the same.
Overlay of HFC and CVI
After spending 3 years in a corrective cycle to the downside (2013-2016), which took the form of a 3 waves Flat structure, HFC started a new bullish cycle advancing in 5 waves impulsive structure building a nest and looking to reach extreme area around $79.2 – $90.5. Down from there, the stock can see 3 waves pullback before resuming higher again as it's expected to remain supported and find buyers in 3 , 7 or 11 swing.
HFC Elliott Wave Weekly Chart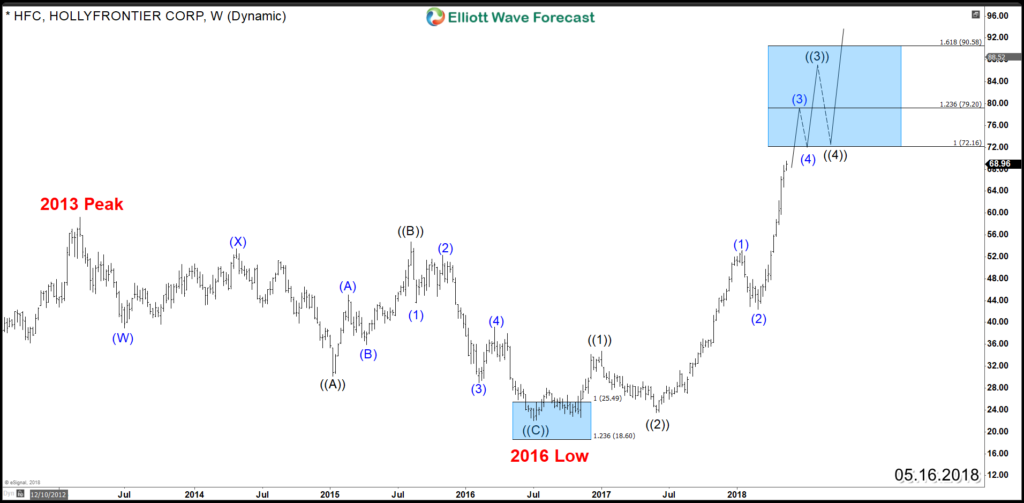 Source : https://elliottwave-forecast.com/stock-market/hfc-hollyfrontier-elliott-wave-rally/