The USD/CAD pair had a very strong showing on Thursday, after first dropping lower. The break above the 1.03 level was enough to break the top of the shooting star from the Tuesday session, as well as break above the handle itself. Because of this, we believe the bullishness will continue in this market, and that the Canadian dollar is well on its back heels by now.
Looking at this chart, we can make an argument to start buying on a break of the highest from the Thursday session as it would show not only a clearing of the 1.03 level on a sustained basis, but would also show a break of a medium strength resistance area on the longer-term charts.
The candle was strong, and finished towards the top of the range for the session, which is always a strong signal as far as we can tell. We still think that this market will aim for the 1.04 level, and with the strength that we've seen recently, it is possible that this pair continues even higher. With that in mind, it should be noted that the US Dollar Index has broken out as well, showing that the US dollar is definitely getting a bid.
Because of this, as we look around the markets, we cannot help but notice that most of the "commodity dollars" all look very weak at the moment. Both the Australian and New Zealand dollars have formed what look like continuation shooting stars, and maybe showing us that they are ready to continue falling. If that's the case, commodities in general should get hit as well.
Going forward, we think this market will more than likely experience a pullback sooner or later, and at that point time we would be more than willing to buy as well. Quite frankly, we have been waiting to see if this market pulled back to the 1.01 handle in order to pile into this trade, but as you can see we have not had an opportunity yet. As for selling, there's absolutely no scenario above 1.01 that we consider doing so.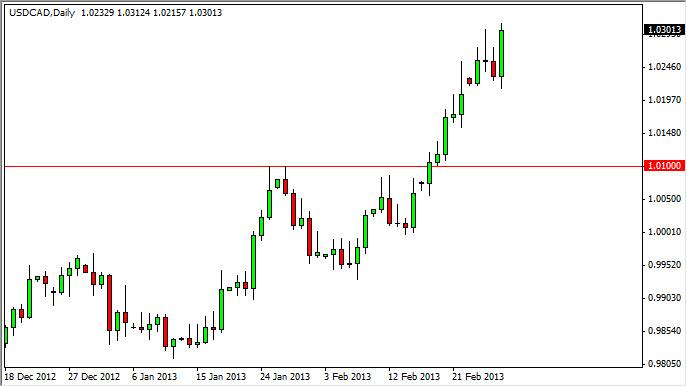 Written by FX Empire