The USD/JPY pair gapped higher from the weekend after the announcement that the opposition party had won a super majority in Parliament during the Japanese elections. This led to an interesting Monday session, as we actually lost the ground gained from the weekend as we filled the gap. Now we have a candle from the session on Monday that looks quite a bit like a hammer, and is most certainly based around the 84 handle.
Because of this, it does look like this market going to go higher. If we can get a move back above the 84 handle, we believe that this market will make a run towards at least 86 in the short-term and more than likely 105 by the end of next year. This seems like an outrageous move, but when you think about where we fell from, and we do realize that most of you traders weren't even trading back then, it still is relatively shallow in the means of a pullback.
The Bank of Japan will be under tremendous pressure to expand its balance sheet going forward, and that means printing Yen. They will be buying bonds, and trying to inflate their way out of the deflationary economy that the Japanese suffer with. The Bank of Japan is expected to be forced to deal with a mandate of inflation being at least 2%, and preferably 3%, and that will send the printing presses into overdrive.
We do understand that the Federal Reserve will be printing as well. However, in this particular market it appears that the Americans will "lose" the currency war. This is because the Yen is so overvalued it isn't even funny.
Some of the stops we see along the way when we get into a bullish run will be the 86 handle, the 88 handle, the 90 handle, and the 100 handle. We will not only be long of this pair, but we will add every time we did find support. As for selling this market, we do not have a scenario now that would even suggest that being the prudent position to be in.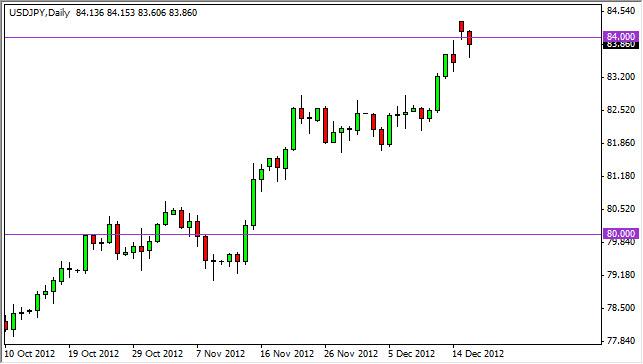 Written by FX Empire