The USD/JPY pair had a massive selloff during the session on Wednesday as the Federal Reserve released its minutes from last month's meeting. The release had shown that several of the members were seriously considering further quantitative easing, and of course this affected the value of the US dollar on the whole.
This is especially true in this particular pair as it is a battle between two central banks that are looking to stimulate their economies. And by stimulate their economies, we mean it devalue their currencies. It seems that the market had anticipated the Federal Reserve to show less interest in easing, and as such the Dollar had been gaining on the Yen over the last week or so.
With this announcement, it appears that we will be bumping along the bottom again for the short term, just as we had a few weeks ago. We still have the same strategy however, as the Bank of Japan is below and willing to intervene if needed. There was a bit of a pullback at the end of the session on Wednesday, so there is certainly some type of support in the general vicinity.
We see the 78 handle as an area that the Bank of Japan is very likely to protect, and as such we are looking for supportive candles to buying again. However, we are not looking for some type of breakout above 80 in the near future; rather we are looking to play this as a range bound market between the 78 and the 80 handles.
The Jackson Hole, Wyoming meeting next Friday gives the Federal Reserve Chairman a platform from which he can explain his thoughts on the economy and whether or not monetary easing may be necessary. As Mr. Bernanke the is well known to be dovish, the market has anticipated that he will in fact concur with the meeting minutes, and suggests that perhaps further easing is down the road.
As for selling, we simply cannot do it as the Bank of Japan will more than likely get involved if we fall below the 78 mark. Looking at this market, it appears that we will have a nice range bound market from which to trade over the near term. Short-term 50 pip trades will more than likely be the way to go.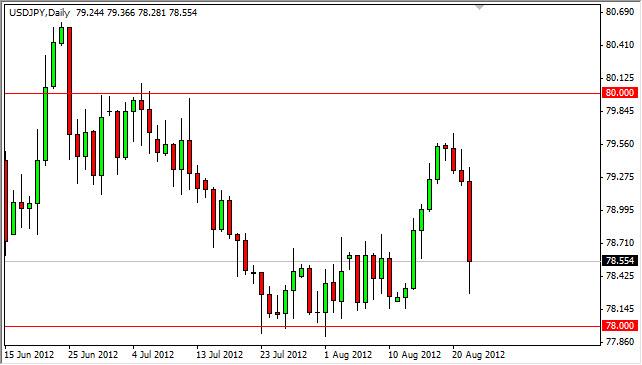 Written by FX Empire