PepsiCo (NASDAQ: PEP), has been facing a challenging environment in the recent 2 years. With the continued uncertainty and volatility in the market, the stock's long-term growth potential is under scrutiny by investors. In this article, we'll analyze the various Elliott Wave patterns for PepsiCo in order to guide investors in navigating the mid-term movement of the stock.
PepsiCo surged into new all time highs on May 2023 but it didn't last long. Since then PEP faced a 20% decline which ended the impulsive cycle started in March 2020.
Based on the current structure we can define 2 potential emerging type of correction taking place.
The initial aggressive approach would suggest a potential 5 waves decline in wave 'a' of larger ZigZag 'abc' structure. Currently a short term bounce in wave ((4)) would ideally fail around $167 – $170 area followed by a wave ((5)) lower into equal legs area $158 – $152. Up from there, a larger 3 waves bounce will happen in wave 'b' before another 5 waves decline in wave 'c' to take place.
PEP ZigZag Structure 10.26.2023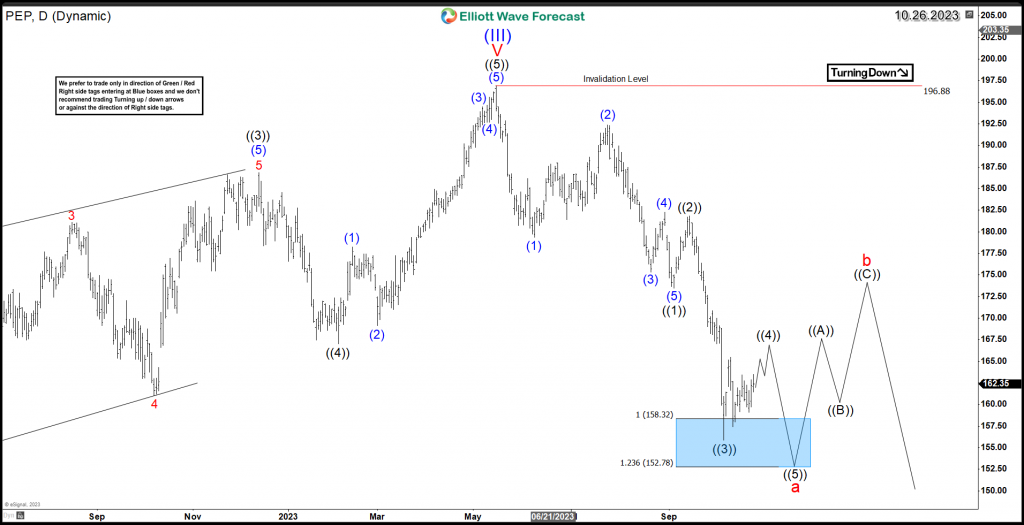 As we can notice on the daily chart, the decline from the peak is already showing 3 waves down ((A)) ((B)) ((C)) which already reached equal legs area $158 – $152. If the move lower is already completed within wave 'w' then the reaction higher will correct that proposed cycle in wave 'x' before the stock turns lower again within a wave 'y' to form a corrective double three structure.
PEP Double Three Structure 10.26.2023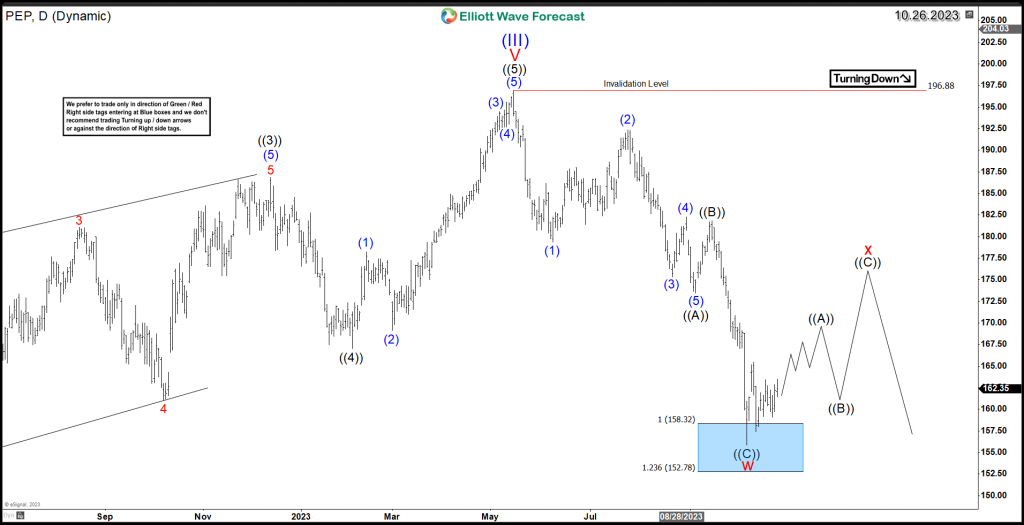 PEP will turn bullish if the rally from October 2023 low turns into a 5 waves impulsive structure suggesting that any pullback would ideally remain supported above $155.83 low. In that case, the stock will be looking to create separation from the low in the coming weeks to support the idea of an impulse.
PEP Impulsive Structure 10.12.2023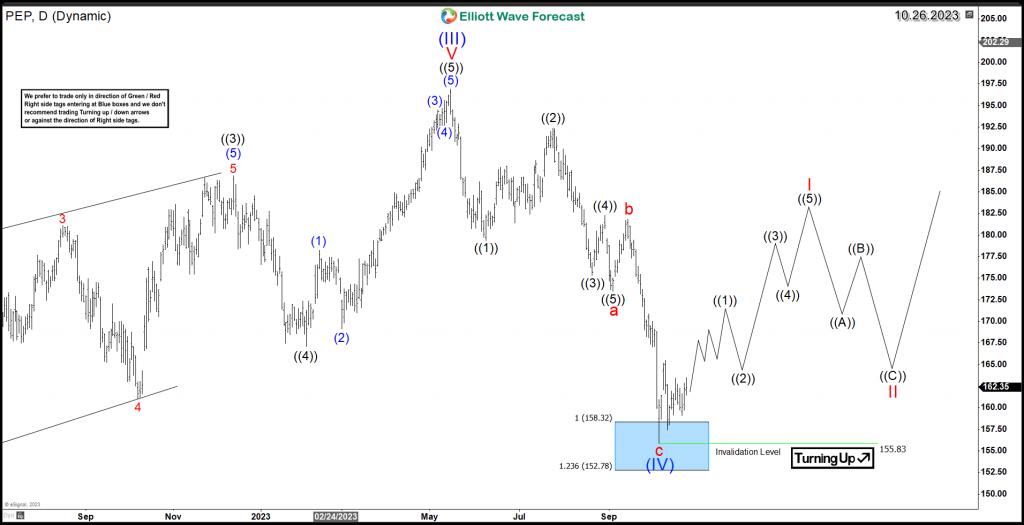 In conclusion, despite presenting 3 different scenarios, the market will soon define the main path as they share the same bounce from the extreme blue box area in the near term. Depending on the structure of the coming move, PEP will give the early hints of what's coming for the stock as volatility is expected to remain for the rest of 2023.
Source: https://elliottwave-forecast.com/stock-market/pepsico-pep-correction/