Cisco Systems, Inc., commonly known as Cisco (CSCO), is an American-based multinational digital communications technology conglomerate corporation headquartered in San Jose, California. Cisco develops, manufactures, and sells networking hardware, software, telecommunications equipment and other high-technology services and products.
At the end of 2021, Cisco finished an impulsive structure at 64.33 which we called wave (I). Then, CSCO dropped nearly a year to complete a zig zag corrective structure at $38.73 as wave (II). Since October 2022 low, we are looking for one more high above $58.19 to finish an impulse structure where we should see a big correction.
CSCO Daily Chart June 2023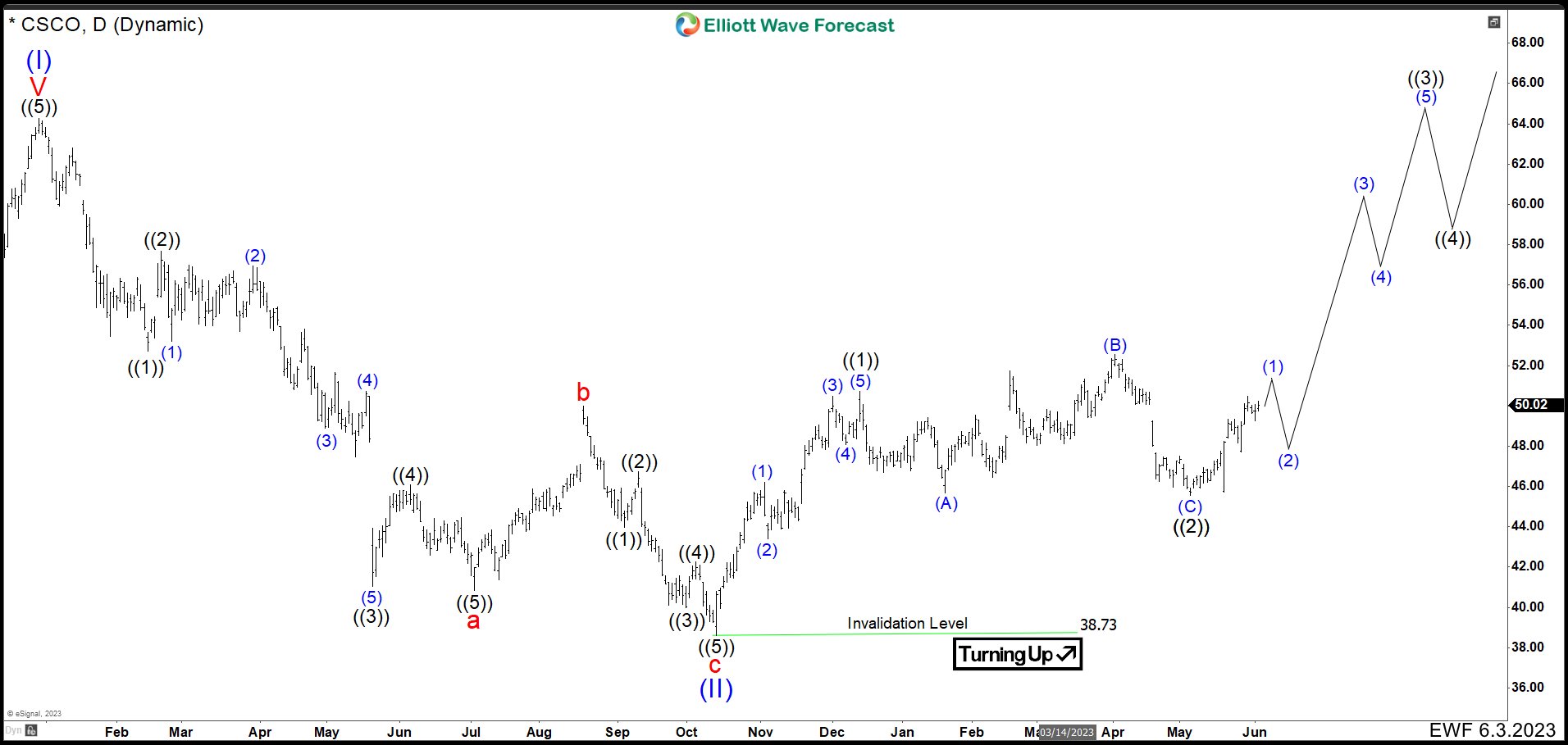 Last blog in June, we called wave ((1)) ended at $50.74 and wave ((2)) made an expanded flat that completed at $45.53. CSCO continued the rally again and we expected to build a wave ((3)) higher while price action stays above $45.53 low.
CSCO Daily Chart October 2023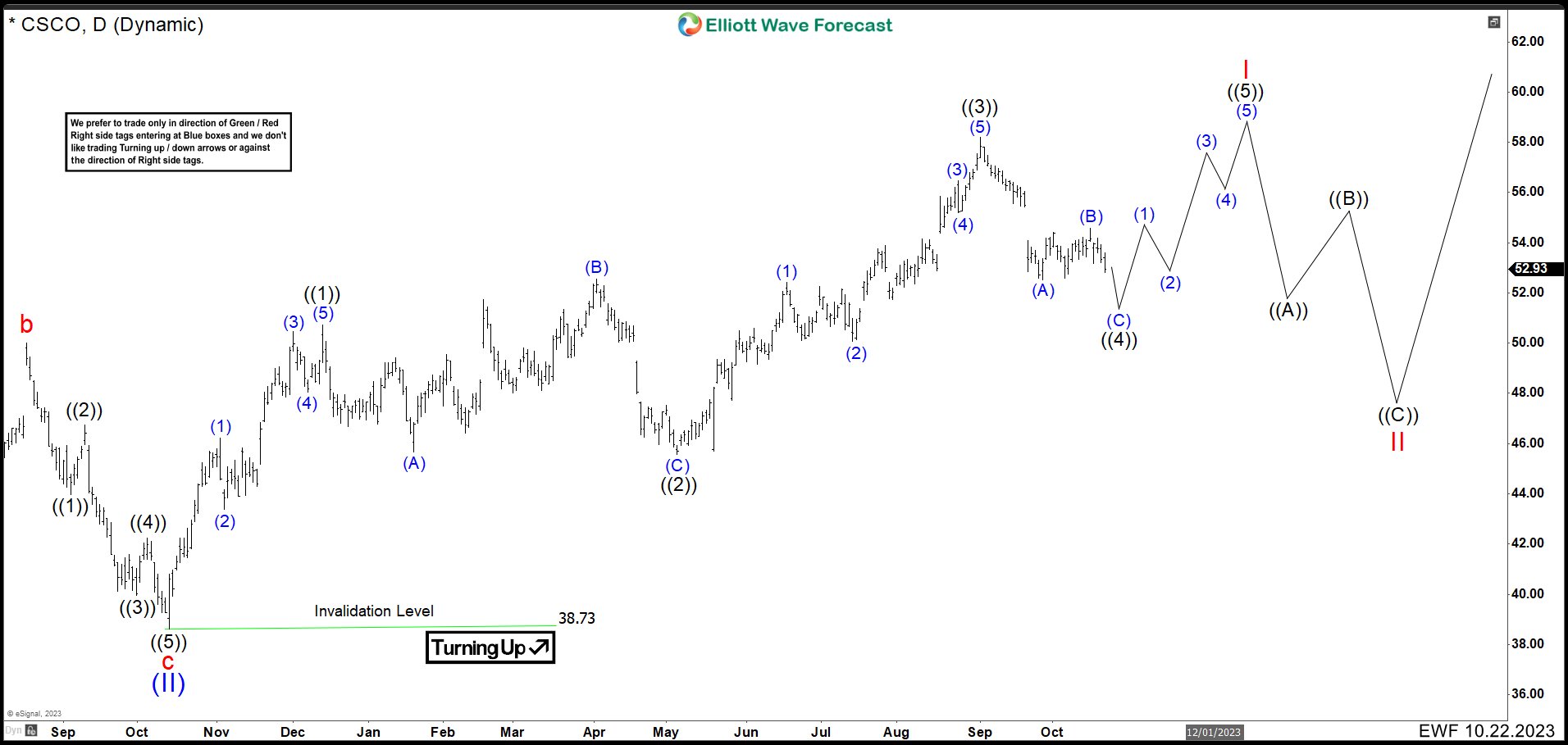 Currently, the market continued higher ending wave (1) of ((3)) at $52.41. Then, it developed a wave (2) as a flat correction ending at $50.06. CSCO rallied again finishing wave (3) at $56.48 and we could see a small correction as wave (4) ended at $55.21 low. Last push higher ended at $58.19 completing wave ((3)) of the impulse and wave ((4)) started. Down from September 2023 high, wave (A) of ((4)) finished at $52.53. Then 3 swings bounced ending wave (B) at $54.59. Now we are waiting to break below $52.53 to confirm wave (C) lower. Once wave ((4)) is completed, we must see a rejection higher to think that wave ((5)) of I has started. To end wave I, we need to see 5, 9 or 13 swings higher to break above $58.19 and see a rejection from the market. In that case, wave II correction lower should have begun.
CSCO Alternative Daily Chart October 2023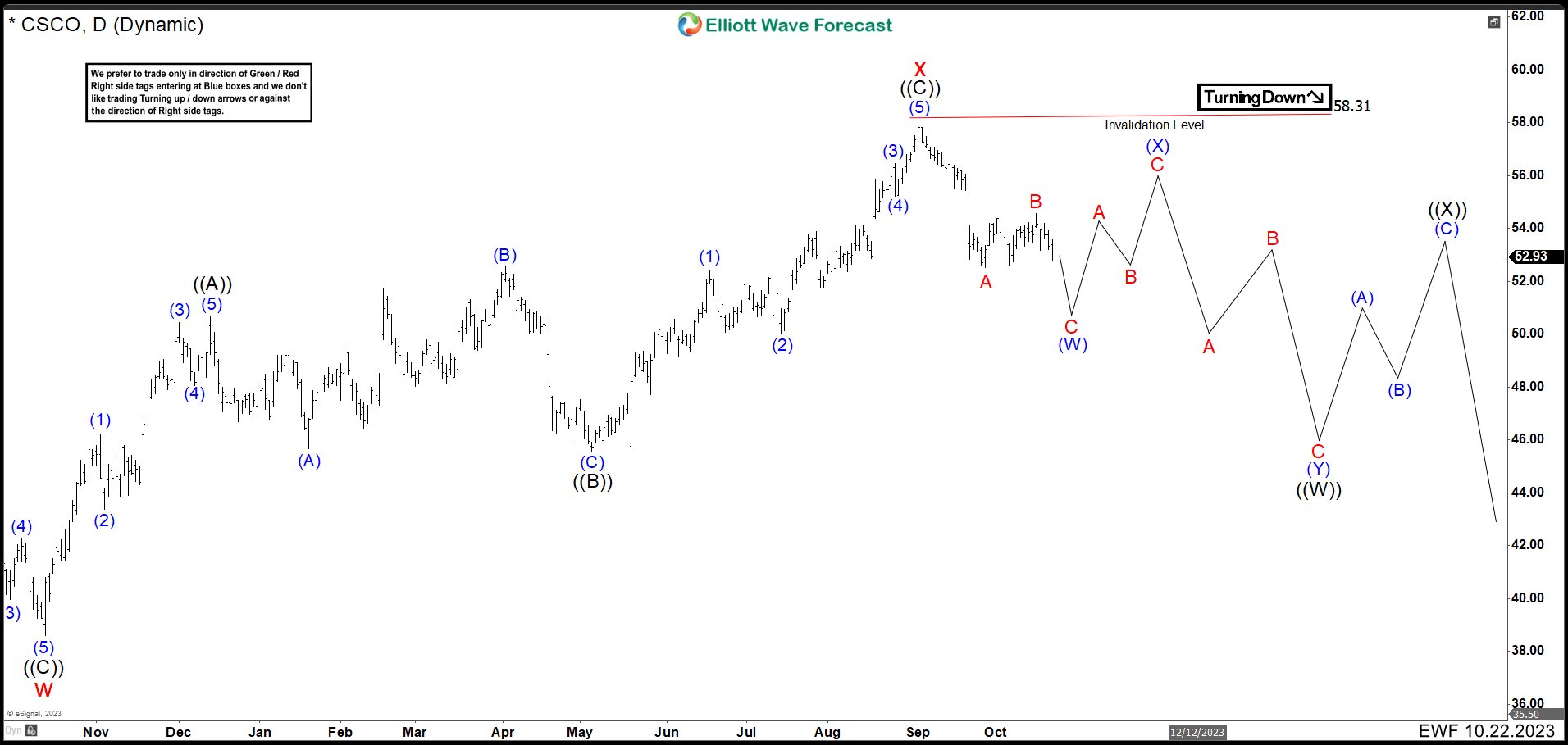 An alternative to this view is that wave (II) has not finished and it makes a double correction. In June, we suggested that CSCO shares price should continue to rise to the $57.66 – $60.52 area. Thus, the price should be rejected from this zone opening the possibility of a double correction that sends the price below $38.73. The market ends a new high at $58.19 in the area and the market was rejected. Therefore, we cannot still rule out the alternative view. Actually, we expect the same path of the main view, the difference between the view is that in the alternative one the market does not break above $58.19 and resume lower. In this case we should follow the alternative path as above.
Source: https://elliottwave-forecast.com/stock-market/cisco-csco-make-one-high-big-correction/