In the fast-paced world of cryptocurrency, Riot Blockchain Inc (NASDAQ: RIOT) has emerged as a key player, fueled by its innovative blockchain technology and successful venture into mining Bitcoin. As the demand for digital currencies continues to rise, RIOT has positioned itself for further growth and success. In this article, we will delve into the bullish structure supporting RIOT's upward trajectory, exploring the potential for continued advances and the opportunities it presents for investors.
Following a 95% decline from its 2021 peak, RIOT hit a major bottom on December 28, 2022. Since then, the stock has rallied an impressive +500%, outperforming its crypto mining peers. The ongoing advance in RIOT follows an Elliott Wave impulsive structure, with the current price action residing within the extended 3rd wave. This wave, known for its length and strength, suggests the potential for further gains in the stock.
Long-term investors who took advantage of the low are reaping the benefits of this impressive rally. However, the daily cycle is approaching the anticipated pullback phase characterized by choppiness in the form of 4th waves. This presents trading opportunities for short-term investors.
The stock is poised for further upside, with potential price targets at the Fibonacci extension levels of $24.5 – $27.5. It's worth noting that reaching the $32.5 level would mark an impressive 1000% rally from the lows.
After completing the impulsive 5-wave advance in wave (I), a corrective pullback in wave (II) is anticipated, followed by another impulsive rally in wave (III) over the next two years. This bullish wave structure suggests further potential for upward movement in the stock.
RIOT Daily Chart 7.17.2023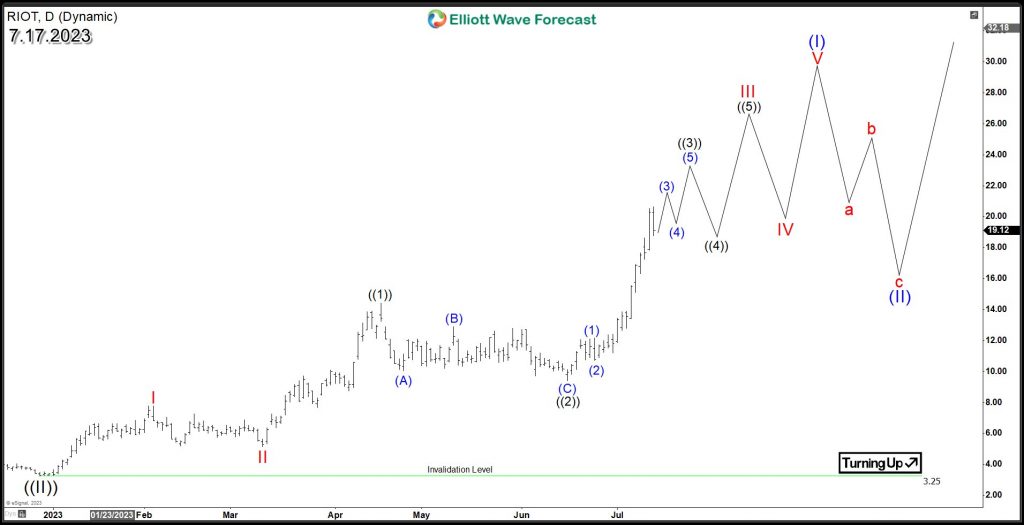 Source: https://elliottwave-forecast.com/stock-market/riot-bullish-advance/