3M Company (NYSE: MMM) is a globally recognized leader in innovation, manufacturing, and technology solutions. With a rich history spanning over a century, 3M has established itself as a trusted name in various industries. In this article, we will explore the Elliott Wave technical chart to provide an overview for long-term Prospects and potential opportunities that lie ahead for 3M.
3M is down more than 60% since it's all time high at $259 and it's correcting the grand super cycle. The downtrend that started from January 2018 peak is unfolding as an Elliott Wave Double Three corrective structure which consist of 7 swings. The initial 3 swing of (w) ended in 2020 followed by a connector in wave (x) which market the peak of 2021 similar to the rest of the stock market. Down from there, another 3 swings is taking place aiming for the equal legs area at $62 – $28.
The mentioned area will present the extreme blue box within the weekly cycle, which is a High-frequency area where market is likely to end cycles and make a turn. The stock is expected to bounce higher from there at least in a larger 3 waves to correct the previous decline. Furthermore, if the upward reaction transforms into a strong and impulsive five-wave advance, it has the potential to initiate a new bullish cycle to the upside.
In summary, 3M Company is currently in the final phase of a corrective structure, indicating a potential major bottom on the horizon. As the stock enters the next decline, investors may find a compelling long-term investment opportunity for the years ahead.
3M Weekly Chart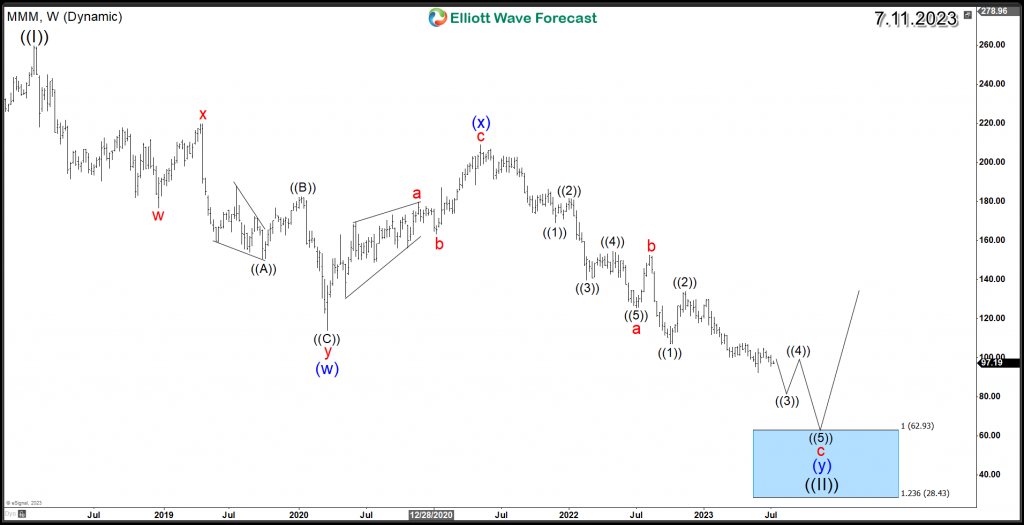 Source: https://elliottwave-forecast.com/video-blog/navigating-3m-mmm/