Nine Energy Services stock has had a remarkable rally in the first quarter of 2022. There are a few small companies that are making big moves with the swing in Crude Oil during the late Feb early March rally. But can this stock continue to rally to new highs? Today I'll take a look at Nine Energy Services and see what the technical analysis has to say. Lets take a look at their company profile:
"Nine Energy Service, is a nimble completions company with experience in major North American basins and abroad, and a deep commitment to serving clients with smarter, customized answers and world-class resources. Nine is dedicated to qualifying what you want to accomplish, and then developing solutions that fit your project, your budget, and your goals. We believe in being a partner to our client, thinking outside the box and accomplishing what others cannot.
Nine is a leading completion services provider that targets unconventional oil and gas resource development across all North American basins and abroad. Nine brings years of experience into play with a new breed of a company dedicated to helping our clients reach their goals in the most efficient and cost-effective way."
This is a highly speculative oilfield services company, lets take a look.
Nine Energy Services Elliottwave Wave View: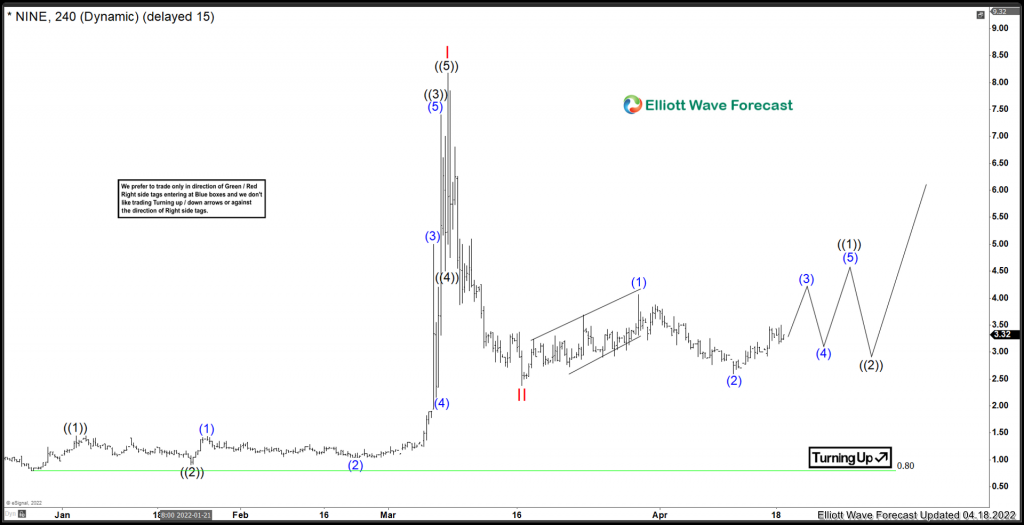 Medium term term view from the low set Dec 28/2021 @ $0.80. Nine is a technically clean chart off that low. Initially, the stock formed a nest in ((1)) ((2)) and blue (1) (2) off that low. After that, Nine broke out into a wave 3 of 3 advance. This took the stock from a low of $1.04 at (2), to a peak of $8.17 at the ((5)) of Red I high. After that, a sharp pullback has taken place while profit taking has occurred. Red II is favoured to have struck a low at 2.38 on March 16/2022. From there, a leading diagonal structure has rallied into (1), a pullback in (2) and now (3) of ((1)) is underway. As long as the recent low at blue (2) remains intact (at 2.60), the next leg higher is favoured to be underway
Source: https://elliottwave-forecast.com/stock-market/nine-energy-services-nine-next-leg-starting/