Indonesia Energy Corp stock has experienced a breathtaking rally since the lows set in January 2022.  There are a few small companies that are making big moves with the swing in Crude Oil (like $IMPP which I covered here recently).  But is this massive move meant to last? Today I'll take a look at Indonesian Energy Corp and see what the technical analysis speaks.  Lets take a look at their company profile:
"Indonesia Energy Corp is an independent energy company in the oil and gas business with operations primarily in Indonesia.
Our strategy is to build an oil and gas assets portfolio with an optimum mix between medium-sized producing blocks and exploration blocks with significant potential resources.
Indonesia Energy producing asset, Kruh Block, located in Pendopo, is a stable and positive cashflow generating oil asset. Our exploration play, Citarum Block, located in the most populated province in Indonesia, only 16 miles south of the capital city of Indonesia, Jakarta, is a de-risked asset with proven presence of hydrocarbons that offers an immense growth opportunity and downstream integration possibilities.
We are also conducting a joint study program to acquire an area that we believe to hold large amounts of crude oil due to its proven petroleum system and location on the Northwest Java basin, the Rangkas Area."
This is a highly speculative Jr. oil explorer play, lets take a look at the charts:
Indonesia Energy Corp Elliottwave View: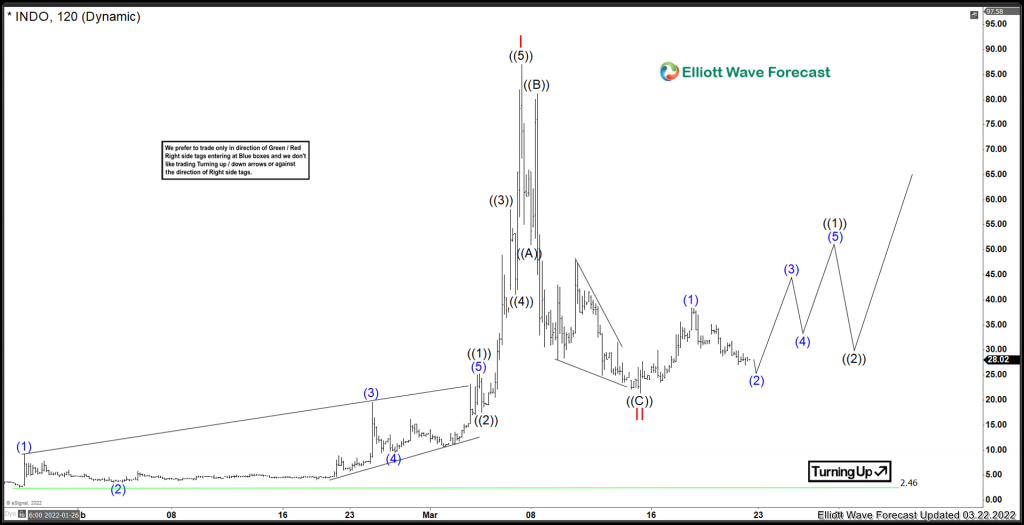 Medium term term view from the low set Jan 26 @ 2.46. This stock rallied off that low in a leading diagonal for ((1)), and a pullback in ((2)). After that, a very impulsive rally took prices to a peak of 86.99 where Red I is set. From there, the stock sharply dropped as profit taking took place. The pullback in Red II took shape as an ABC from the peak. Red II is favoured set on 3/15 at 21.35. After that, a rally has taken place in (1). And now, a pullback in (2) is underway as long as the 3.15 low remains intact.
In conclusion, the next leg higher is favoured to be underway. As long as Red II low holds. If that low gets invalided, then the stock can grind even lower before resuming higher.
Source: https://elliottwave-forecast.com/stock-market/indonesia-energy-corp-indo-ready-next-leg-higher/