AMC Entertainment Holdings, Inc. is an American movie theater chain headquartered in Leawood, Kansas, and the largest movie theater chain in the world. Founded in 1920, AMC has the largest share of the U.S. theater market ahead of Regal and Cinemark Theatres. It has 2,866 screens in 358 theatres in Europe and 7,967 screens in 620 theatres in the United States.
AMC Daily Chart March 2022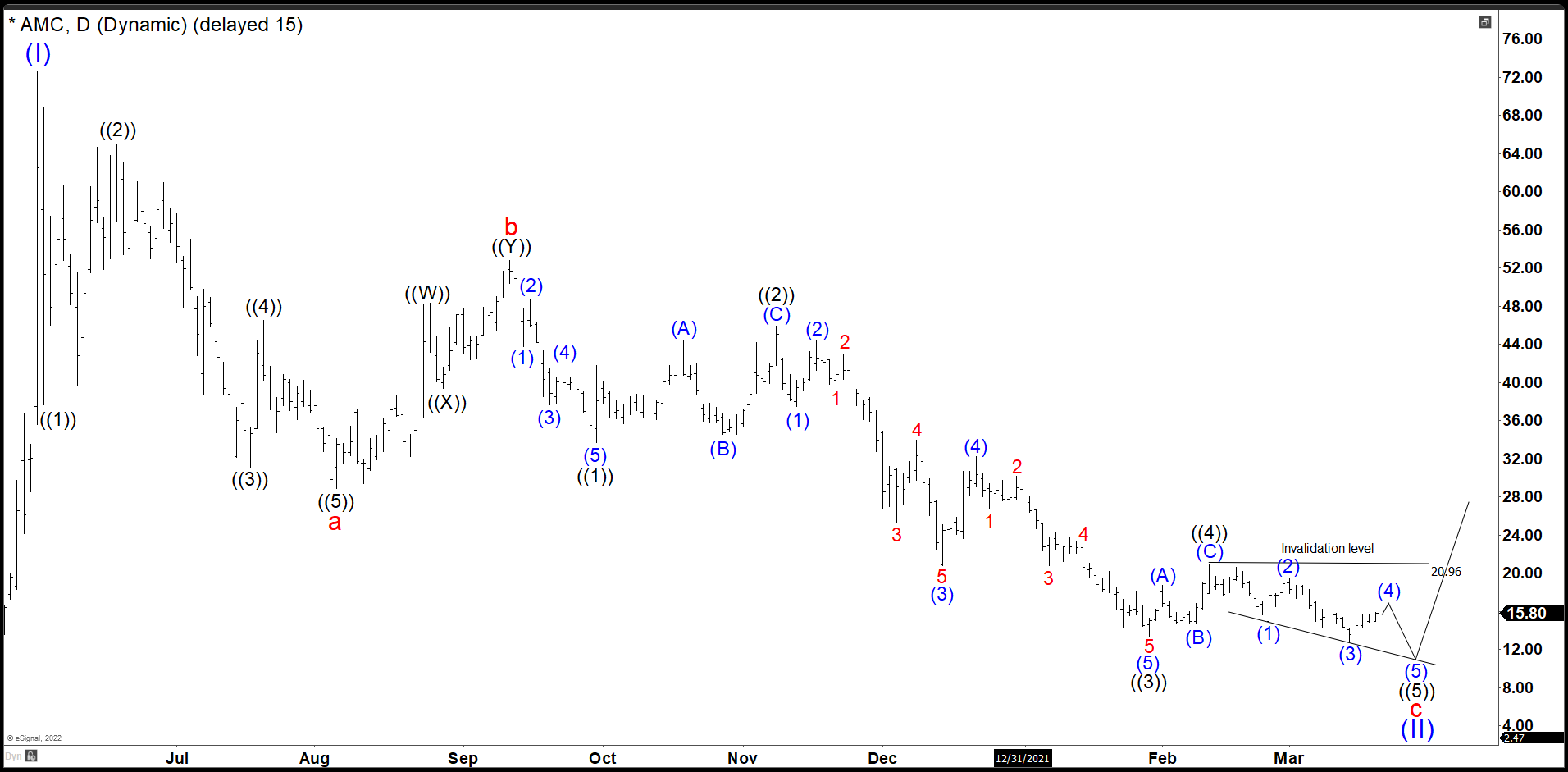 AMC reached a value of 72.62 in February 2021 and it started a deep correction. That is why we are calling wave (I) at that peak. The correction has extended lower until now as a zig zag structure 5-3-5. We could see 5 swings down from the peak and we labeled as a leading diagonal. These 5 waves completed wave "a" at 28.91 and bounce in wave "b". Wave "b" rally until 52.79 making 7 swings up as a double correction and turned lower again. (If you want to learn more about Elliott Wave Theory, follow these links: Elliott Wave Education and Elliott Wave Theory).
Since there, we were looking for 5 waves down to complete wave (II). The impulse from wave "b" already made 4 waves down and we are developing the last one. Wave ((1)) ended at 33.74. Bounce to 45.95 finished wave ((2)) and dropped again. Wave ((3)) made 5 swings more down ended at 13.40 and pullback to 20.96 was wave ((4)). Currently, it is developing the wave (4) and (5) of ((5)) to complete wave "c" of the zig zag correction and also wave ((II)). The price should fall to 12.90 – 9.09 area to finished the correction and rally. In case AMC breaks 20.96, the wave ((II)) should be in and the rally already will have started.
Source: https://elliottwave-forecast.com/stock-market/amc-correction-done-needs-one-low/