Farmer Bros. Co is an U.S. american coffee foodservice company based in Nortlake, Texas, USA. Founded in 1912 and traded under tickers $FARM at Nasdaq, it is a component of the Russel2000 index. Farmer Brothers specializes in the manufacture and distribution of coffee, tea and other food items. Currently, we can see coffee and other softs turning higher. Therefore, Farmer Brothers being an important player in coffee as a commodity should become a good opportunity for investors to participate in the anticipated rally in soft commodity prices.
Farmer Brothers Quarterly Elliott Wave Analysis 04.19.2021
The Monthly chart below shows the Farmber Bros. Co shares $FARM traded at NASDAQ. First, the stock price has developed an impulse higher in black wave ((I)) of grand super cycle degree. It has printed the all-time highs in 2nd quarter of 2004 at 39.39. From the highs, a correction lower in black wave ((II)) has unfolded as an Elliott wave regular flat pattern. It has printed an important bottom in October 2020 at 3.40.
From October 2020 lows, a new cycle in wave ((III)) has already started and should extend towards 39.39 highs and beyond. Then, the target for wave ((III)) will be towards 42.84-67.20 area and even higher.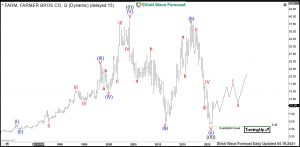 Farmer Brothers Daily Elliott Wave Analysis 04.19.2021
The daily chart below shows the early stages of the wave ((III)). From the October 2020 lows, $FARM has developed blue waves (1)-(3) within the initial impulse in black wave ((1)). Currently, wave (4) might have ended and a blue wave (5) should see a new high. In overall, wave ((1)) can end soon. Therefore, it is risky to chase Farmer Bros. Co at current prices. Investors and traders can be looking to buy the pullback in wave ((2)) in 3, 7 or 11 swings against 3.40 lows.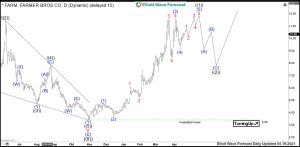 Source: https://elliottwave-forecast.com/stock-market/farm-farmer-brothers/