Arcimoto off the March 2020 low has been on an amazing rally. With the stock price rallying from $1 to $20, it has enjoyed a 2000% gain in under a year. Arcimoto is an electric vehicle company headquartered in Eugene, Oregon. Arcimoto manufactures and sells the Fun Utility Vehicle, or FUV, a tandem two-seat, three-wheeled electric vehicle. They also sell van-variations on the design "Rapid Responder" for emergency services, and "Deliverator" for last-mile deliveries.
The chart is pretty clean, lets take a look at the price action since the March 2020 low.
Arcimoto Elliottwave View: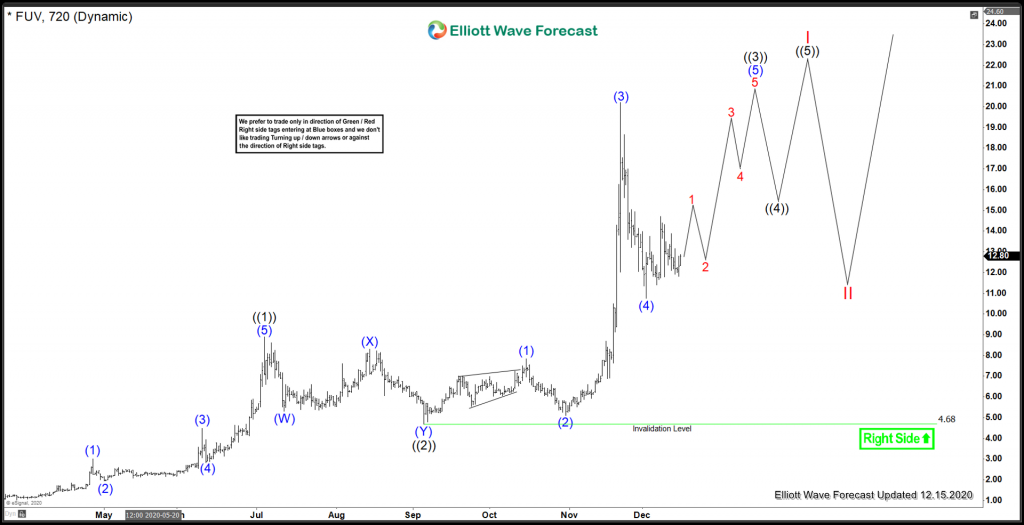 Medium term term view from the low set in March of 2020 is that this instrument is in the process of forming a large 5 wave impulse. March low to July ((1)) peak is showing a 5 waves advance, then consolidation into the ((2)) low set at 4.68 on Sep 4 2020. After there, a choppy Blue (1) took place, and Blue (2) set on October 30 at a price of 5.10. After that, a beautiful wave 3 impulse took hold, propelling the stock from the 5.10 low, to a high of 20.20 on Nov 20, 2020. It has since retreated back to a low of 10.75 on Dec 2/2020, which is favoured to be the Blue (4) low.
It has an incomplete bullish sequence to the upside. This means that further upside is likely to take place, before a larger degree correction in Red II is favourable. As long as prices remain above 4.68, at least one more high is favoured to take place to meet the minimum number of swings for a bullish sequence. Preferably, 2 more highs in ((3)) and ((5)) are favoured.
Risk Management
Using proper risk management is absolutely essential when trading or investing in a volatile stocks.  Elliott Wave counts can evolve quickly, be sure to have your stops in and define your risk when trading.
Source: https://elliottwave-forecast.com/stock-market/arcimoto-fuv-bullish-trend-intact/