Lordstown Motors has had a great start to 2020. With the stock price tripling to a peak in Late September, this company has lots of potential for future gains. Lordstown Motors is in the EV sector, which has been scorching hot all year long. Lets take a look at the company profile below:
"Lordstown Motors is an American electric vehicle automaker based in Lordstown, Ohio, which was founded in 2018 by Steve Burns, former CEO of Workhorse Group.
On November 7, 2019, Lordstown Motors became the owner of the former GM Lordstown plant, after signing a sales agreement with automaker General Motors in May 2019. GM loaned Lordstown Motors US$40 million in order to underwrite a substantial part of the plant purchase.
In March 2020, it was revealed that Lordstown Motors paid Workhorse Group US$12,000,000 for the rights to the intellectual property of the Workhorse W-15 pickup truck, Lordstown Motors intends on developing its own electric pickup truck based upon Workhorse's design. As part of the business deal, Workhorse Group was given a 10% equity stake in Lordstown Motors.
In August 2020, GM announced that it has invested $75 million USD in Lordstown Motors. General Motors obtained a seat on Lordstown Motors' board of directors doing so, and is now including Lordstown Motors into its Tier 1 supply chain. With the deal, Lordstown Motors is expected to become a rival to Tesla, Rivian, and Nikola."
The chart looks very technical, lets dive in!
Lordstown Motors Elliottwave View: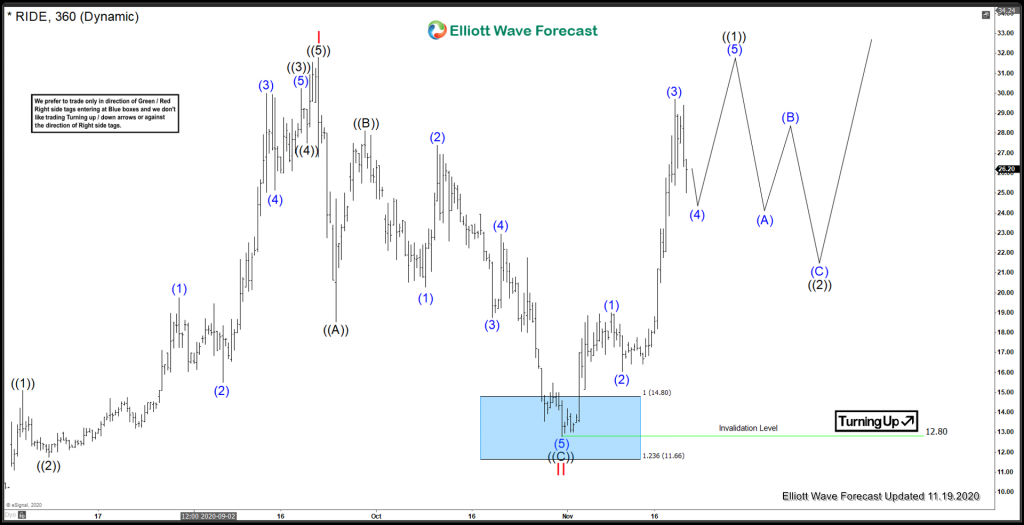 Medium term term view from the Inception in July 2020. There is a clear 5 waves impulse that peaked on 9/22/2020 @ 31.80, Red I. After that, the stock took a much needed breather with a fairly sharp correction. This correction took shape in an ABC 3 swings and reached the blue box extreme area where buyers entered. The blue box, is an equal leg area, where Algo's can be programmed to enter the market (at 100% equal leg measured move). More often than not, the blue boxes provide good opportunities to enter the market.
After setting a low at 12.80 on 10/30/2020 in Red II, the stock has rallied impulsively. Currently, it is favoured to be in a blue (3) before moving higher to complete the sequence from the 10/30 low. After that, a 3, 7 or 11 swing correction should take place, to correct the cycle from the 10/30 low. In short, this stock, and company, look to be making some great moves in the future. The technical picture supports the view that a bullish nest can take shape, after which, a strong impulsive rally can take hold in the future.
Risk Management
Using proper risk management is absolutely essential when trading or investing in a volatile stocks.  Elliott Wave counts can evolve quickly, be sure to have your stops in and define your risk when trading.