British Pound Sterling gained last week against major currencies as positive headlines on Brexit negotiations start to trickle. The chart below shows the gain of Pound Sterling against some major currencies: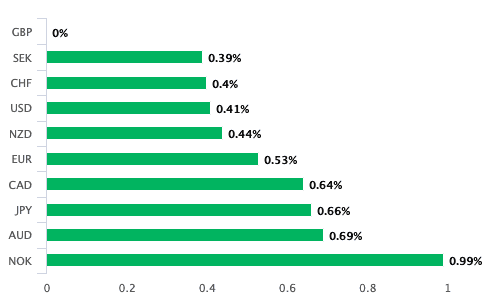 One of the positive developments came from the European Union's softening stance on fishing rights. Fishing has been one of the two main stumbling blocks to a deal. Thus, the shift in the EU's position has helped improve sentiment on the Pound Sterling. Bloomberg also reports about the two sides preparing for a stripped-down agreement. This will include a free trade deal eliminating tariff and quota but fall short of the broader accord. Thus, even though there are still disagreement in some key areas, some parts of the trade deal still can move forward. If this is the case, then the fear of hard Brexit with all-or-nothing approach will not materialize. Further negotiations will take place in coming weeks, and if further good news emerge, Pound Sterling may continue to advance higher.
EURGBP 4 hour Elliott Wave Chart
Cycle from 6.29.2020 high in EURGBP appears incomplete and pair can see further downside to reach 100% – 123.6% area towards 0.884 – 0.888. Decline is unfolding as an ABC zigzag Elliott Wave structure where the first leg of the decline to 0.9 on 7.2.2020 ended wave A or alternatively wave 1. Bounce to 0.9067 ended wave B or alternatively wave 2. Wave C or alternatively wave 3 is in progress and wave A = wave C target comes at 0.888. The subdivision of wave C currently also looks incomplete and need 5 waves to complete the third leg. While bounce stays below wave ((ii)) of C at 0.901, pair can see further downside to the blue box.