Summary
A strong 3.2% U.S first quarter GDP indicates robust economy.
Temporary drivers of the growth however may not be sustainable for the remainder of the year.
Strong U.S. economic data can continue to boost global stock market and U.S. Dollar in the short term.
The U.S Commerce Department reported a strong first quarter GDP growth of 3.2% last week. This is the fastest figure since 2015 and put to rest the fear of recession. It also beat the expectation of over 2% growth by the economists. The GDP result was positive for the market causing global stock markets to rise. S&P 500 registered another record closing high. The dollar fell against a basket of other currencies but could just take a breather after a strong rally since early 2019. After all, around the world, things are not looking as bright. Germany is barely growing and Japan is slumping.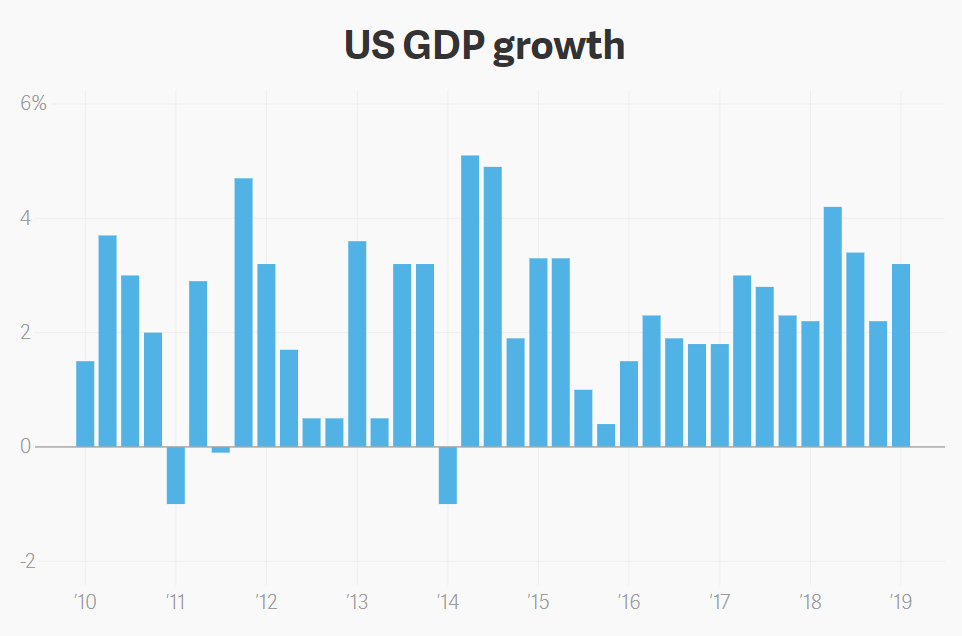 Source: Atlas with data from Bureau of Economic Analysis (BEA)
However, not everything in the GDP report is rosy. The drivers of the growth primarily come from two sources: Smaller trade deficit and large inventory. Exports grew by 4%, but recent data indicates contraction in global trade. CPB Netherlands Bureau for Economic Policy Analysis reports the world trade momentum contracts by 1.9%, the sharpest contraction since 2009.
Source: CPB
Strong GDP Number Support Global Market and US Dollar
This suggests that the export growth may be temporary and can't continue to boost the GDP number for the remainder of this year. The surge in inventory is yet another temporary factor which may not necessarily indicate a strong economy. Although a stock buildup can signal that companies expect future demands to increase, it can also signal sluggish demand as unsold inventory accumulates. Thus, the number doesn't really tell us the underlying strength of the economy.
However, despite some of the underlying questions on the two elements, the GDP print reveals that the recession fear is overblown. Global stock markets responded favorably with S&P 500 notching a new all-time high. The Dow Jones Industrial Average is also close to breaking out the previous 2018 high. With continued optimism and momentum buying, the rally in global markets can continue to extend in the short term. U.S. Dollar can also continue to outperform with the rest of the world market lagging.
USDCHF Daily Elliott Wave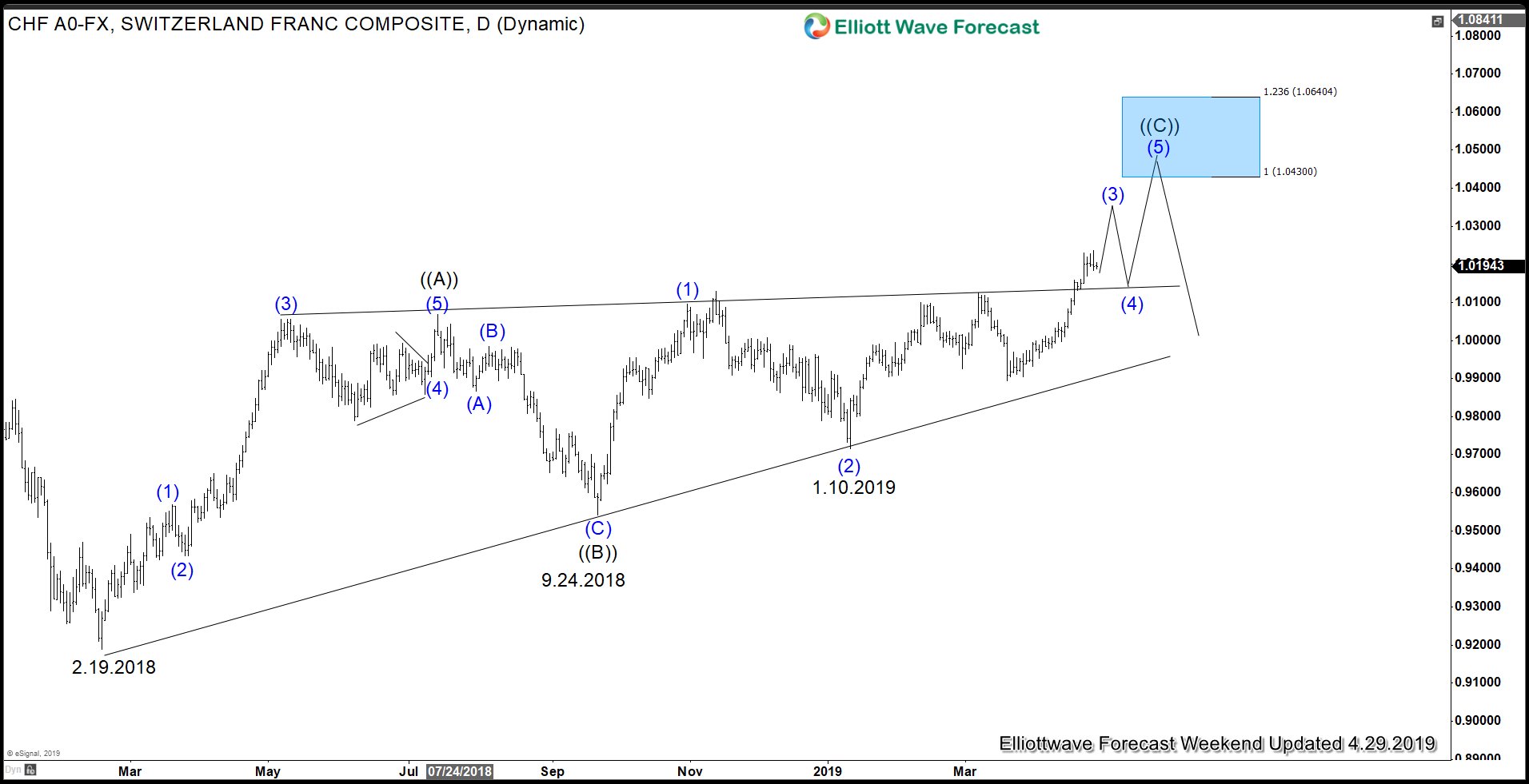 USDCHF Daily chart above shows that sequence from Feb 29, 2018 low remains incomplete with 100% target towards 1.043 – 1.064 area. The pair shows a bullish sequence from 3 different cycles:
February 19, 2018 low
September 24, 2018 low
January 10, 2019 low
Additionally, the pair looks to have broken above the wedge-like pattern which has limited the rally for the past year. We expect the pair to continue finding support in dips in 3, 7, or 11 swing for further upside.