Total cash investments among the major participants in the CME Group of Crude Oil derivatives trading decreased by 5%.
At the same time, the total capitalization of investments in dollars amounted to $ 256 billion 588 million.
The predominance of bulls decreased by 7%. In monetary terms, the overriding customer sentiment amounted to $ 34 billion 929 million.
The number of locked positions of investors decreased by 3%.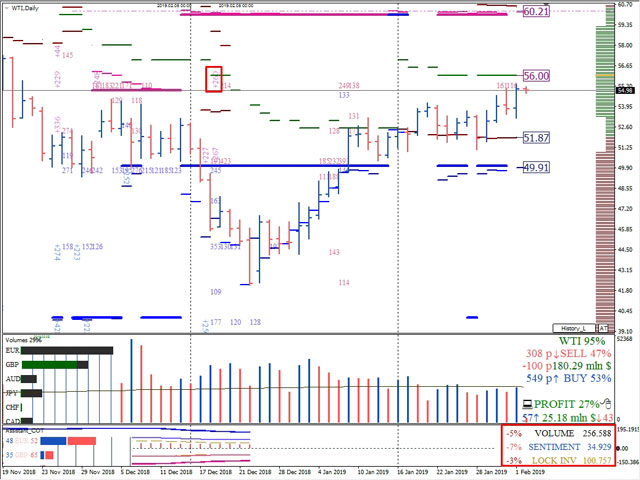 Money investments in USOIL among SMART MONEY are as follows: 57% of buyers and 43% of sellers.
The first long-term goal of raising the daily timeframe is the monthly level of the market maker's balance (56.00).
In the event of a breakdown and consolidation above the indicated option resistance level, we can expect a likely increase to the monthly option gain level of $ 255 million for a fall (60.21).
The proximity of the monthly zone of hedger resistance and the level at which the market maker began to lose further reinforce the option resistance level under consideration.
The closest support level for trading inside the option month is the level of market maker support (51.87).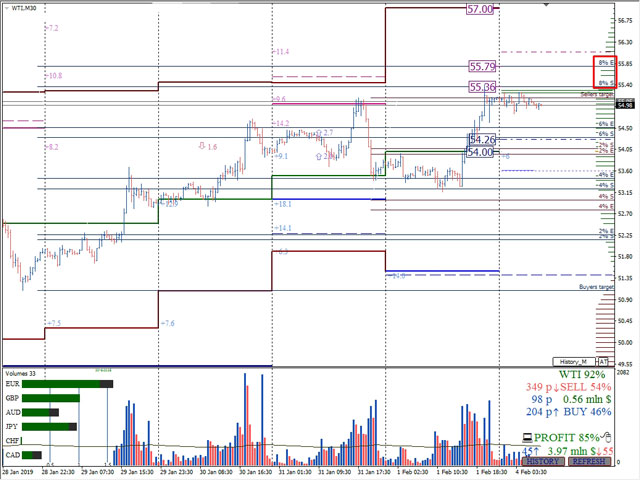 The next long-term goal of reduction is the premium of the hedge resistance zone (49.91).
The key support for the first working day of the current week is the level of limit buyers (54.26).
In case of a breakdown of the level of limit buyers, we can expect a decline to the weekly market maker balance (54.00).
The closest resistance on Monday, February 4, is the zone of 8% of buyers (55.36-55.79).
The next goal of growth within the working week is the optional resistance level of the seller of medium-term options (57.00).
Dmitry Zeland, analyst at a brokerage company
MTrading
.