USDCNH moves in the ascending price channel on 4-hour chart which is providing the near term support around 6.8910, indicating that the pair remains in the short term uptrend from 6.8680, and upward movement extended to as high as 6.9171. As long as the pair stays in the channel, the fall from 6.9171 could be treated as consolidation of the uptrend and another rise toward the top of the channel is still possible after the consolidation.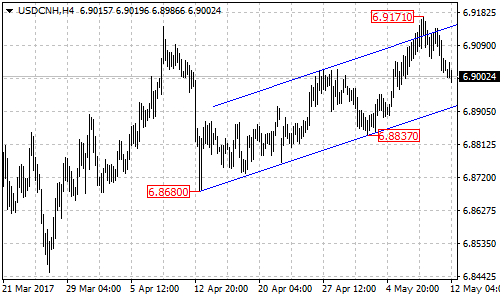 On the upside
If you are learning to trade with price channel, you should know that approaching the support trend line from 6.8680 to 6.8837 indicates a good time to buy, and take profit at the resistance line.
On the downside
A clear break out of the support trend line will suggest that the upward movement had completed at 6.9171 already, this could trigger a downward movement to test 6.8680 key support that we mentioned yesterday. Below 6.8680 key support could trigger another sharp drop towards 6.7300 (the bottom of the price channel on weekly chart).
Confirmation
There is a support level located at 6.8837, just below the bottom of the price channel on its 4-hour chart. A breakdown below this level is needed to confirm the bearish movement.
Important
The pair is in short term uptrend. Only take long positions unless the bottom of the price channel is broken below.
Technical levels
Support levels: 6.8910 (the bottom of the price channel on 4-hour chart), 6.8837 (confirmation), 6.8680 (key support of the triangle pattern on the daily chart), 6.7817 (Jan 5 low), 6.7300 (the bottom line of the price channel on the weekly chart).
Resistance levels: 6.9171 (the highest record of the upward movement from 6.8680), the top of the price channel, 6.9867 (Jan 3 high), 7.1200 (measured move target of the triangle pattern).