Introduction:
Opteck is based in the United Kingdom and its registered offices are located at 788-790 Finchley Road, London, UK. This binary options broker is managed and was founded by expert traders with extensive trading experience in currencies, commodities, stocks and binary options.
When designing the Opteck trading platform, emphasis was emphatically placed on ensuring client satisfaction and security of funds as top priorities. As such, the Opteck trading platform was specifically developed for use by an extensive range of traders extending from both larger institutional players to complete novices.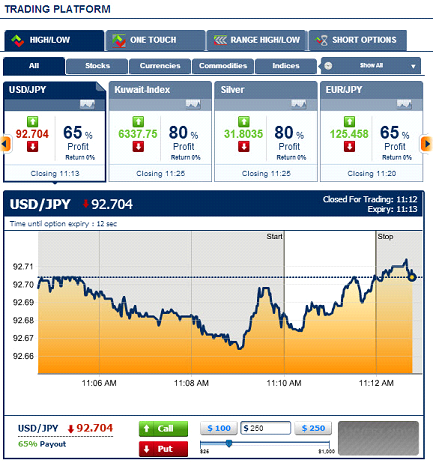 For example, there is no need to download and install any software whatsoever as Opteck supports a 100% web-based, user-friendly trading platform.
Assets:
Opteck is very competitive in this sector as it supports a comprehensive list of over 60 assets allowing its clients to choose from a wide-ranging selection. These securities are diversified among the four main asset classes, i.e. i.e. stocks, commodities, currencies and indices containing all the popular selections, such as the EUR/USD, Gold and Apple, etc. Clients can even have to ability to request Opteck to add their particular favorites.
Minimum Deposit:
This is $200. However, Opteck management advises clients to opt for their comprehensive $500 startup program which provides additional services, a revered educational program and specialized personal instruction to help them acquire profits.
Payout Rates:
Opteck support payouts ranging from 65% up to 100%.
Deposit Currency:
Euro, US Dollar, Japanese Yen and British Pound
Option Refund if Out of Money:
Refunds range from 0% to as high as 15%.
USA Traders Accepted:
Yes
Platform:
Opteck provides a 100% web-based trading platform that was developed by MarketsPulse. As such, no installation and download of software is required. This broker also supports an innovative software package that was specifically designed to trade binary options directly from mobile phones.
Usability:
Registering with Opteck is easy and quick! All potential clients have to do is complete a straightforward application form and make an initial deposit. They can be trading in just a matter of minutes.
They will then have access to the highly sophisticate but user-friendly Opteck trading platform. This impressive facility even automatically performs risk and money management actions on every trade opened. Clients can also sell their options before expiration if they deem such an action is advantageous.
Fees:
None
Bonuses:
Opteck offers many promotions and bonuses. For instance, there are cash-backs available up to $200.
Minimum trade:
$25
Expiry Times:
A wide choice of expiry times is provided ranging from 3 minutes to 24 hours.
Customer Service:
Support is available around the clock by live chart, email and phone and is supported in 5 languages. Opteck also supplies comprehensive news and market updates to keep their clients informed about all the new events capable of influencing the financial markets.