The USD/JPY pair fell during the session on Tuesday, breaking below the 98 handle. However, you could plainly see that there is still plenty of support below that big figure, and as a result the market could not get much lower than that. Besides, the Bank of Japan will still continue to work against the value the Yen, and as a result we do not sell this pair under any circumstances. Granted, there is a lot of speculation as to whether or not the Federal Reserve will in fact taper off of quantitative easing over the course of the next couple of months, and that of course is driving this market back-and-forth.
We for one are necessarily concern one way or the other, it's about the expectations as to what the Federal Reserve will do. Right now, it appears that the market is expecting them to forgo tapering, and that has had a negative effect on the US dollar. At the end of the day however, we feel that this market is still going to be a positive one simply because the Bank of Japan is going to be much more determined to undermine its own currency than the Federal Reserve. After all, there does come a point where the Federal Reserve does have to relent and start tapering off. Even if it's not in September or October, it's soon.
That being the case, this pair should continue to climb, and we are looking for some type of supportive candle in order to get long. We think that eventually we will hit the 100 level again, followed by 102, and followed by 105. By the end of the year, it would not be surprising to see 110 hit by this pair. We quite frankly believe that we are in the beginning of a long term multiyear uptrend, and if you look back at the reversal in 1995, you saw a lot of the same type of choppy action. Based upon history alone, we do feel that this market will eventually start going up over the longer term, and should provide a nice long-term trade for many of you out there.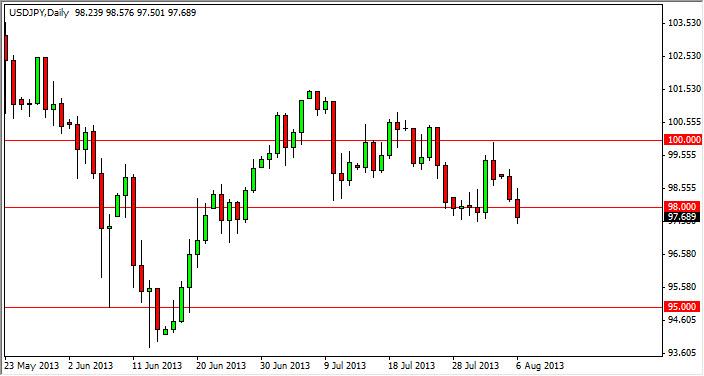 Written by FX Empire