The USD/JPY pair rallied during the session on Tuesday, breaking above the 95 handle. In fact, we managed to close above that level in order to show significant support in this general vicinity. With today being the FMOC meeting, we suspect that the next 24 hours will be very important for this pair. The market has been sold off rather drastically recently, and this is based upon the idea that the Federal Reserve may begin to "taper off" the quantitative easing that has been propping many of the markets up.
On top of that, it appears that a lot of people were are starting to doubt the "Abenomics" coming out of Japan, as the JGB markets have been volatile to say the very least, as the Japanese look like they are starting to lose control of the bond markets. If that's the case, this market is about to go absolutely nuts.
Looking forward, we believe that a break above the highs for the session on Tuesday should signal the bounce that everybody has been waiting on, as this market should in the longer-term be very positive. Going forward, we think that pullbacks will offer buying opportunities, but the pullback that we have just gone through has been rather difficult for buyers to stomach. Quite frankly, the market pullback drastically, but in the end only pullback to roughly the 38.2% Fibonacci retracement of the larger move. Because of this, we still have a very bullish looking chart on the longer-term time frames, but as you can see many people will get shaken out of the market in the short term.
Even though there is talk of doubt when it comes to the Japanese economic policy, we believe that in the end they will do what it takes to drive this market much higher. Granted, they won't necessarily move it all in one shot, but over the long run they will eventually prevail as they always have in the past. The Japanese economy just simply needs a Yen that is lower valued in order to survive, simply because of demographics and exports.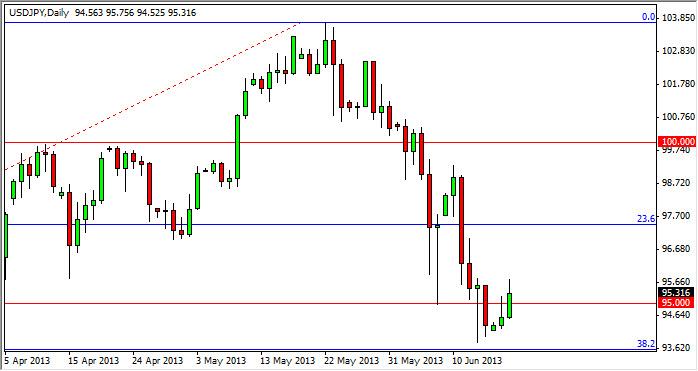 Written by FX Empire