The AUD/USD pair broke above the 1.04 level for the first time over the last few months on Thursday, finally getting through an area that had been so stubborn for the last week or so. Because of this, it does appear that we are trying to breakout and up to the 1.06 level eventually, although there will certainly be a bit of choppiness between here and there.
The Australian dollar has underperformed for some time, and as the gold markets start to heat up, we believe that is about to be remedied. As the Aussie tends to follow the gold markets and vice versa, it makes sense that we continue higher. However, the 1.0450 level does offer a little bit of resistance, so perhaps a pullback I'm a short-term chart will be the way to enter this trade.
As far as selling is concerned, we would not want to do so because of the solid nature of this breakout. After all, we did close towards the highs of the day, which is something that is rather significant considering that Thursday was definitely a "risk off" type of trading session. Most of the indices around the world sold off as stocks were shunned, and commodity markets did not do so well either. The one standout of course was the gold market, which of course has a direct correlation with this particular currency pair.
As the central banks around the world continue to print, there is a good chance of the Australian dollar continues to appreciate over time. After all, Australia exports massive amounts of gold to places like Asia and the United States.
The 1.04 level was simply the "middle point" of the larger consolidation area from 1.02 to the 1.06 handle. If we finally breakout to the outside, something that we thought would've happened months ago, the measure of the move could go as high as 1.10 I the time it's all said and done. At this point time, it's a little early to suggest that is going to happen, but we certainly wouldn't be surprised if it did sometime over the next several months.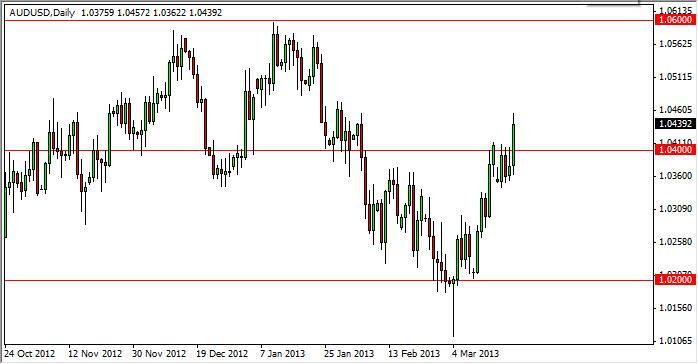 Written by FX Empire