The AUD/USD pair rallied during the session on Wednesday and even broke above the 1.04 level yet again during the session. However, just as it has the last three days in a row, the Australian dollar could not hold above that level, and because of this we formed a shooting star for the session. This market is obviously running into a lot of resistance at this level, and because of this we find it difficult to buy the Aussie at this point.
As we look at this chart, we can see that the market has been consolidating between the 1.02 and 1.06 levels. The area has held the market in check for some time, and because of this we think that the market will eventually try to head back to the 1.06 level. However, there is a lot of resistance at the "middle point", the 1.04 level. This is fairly common, as it is the area that is considered to be "fair value" by the market at the moment.
The fact that this area has kept the market in line for over a year and a half speaks to the strength of it. If this market gets out of this area, we could see a significant move in one direction or the other. The measured move would suggest 1.10 on a breakout, and a move down to the 0.98 handle on a breakdown. With that being said – the Aussie will become a lot more interesting when we finally get out of this rectangle.
In the meantime, we have to be somewhat quick to take profits, and losses. This is because within the larger consolidation, we have been battling between 100 pip levels, based upon the "handles." With this being the case, we could see a lot of choppiness before the actual longer-term direction of this market becomes clear. In this type of environment, it is more often than not a good idea to base entries and exits off of shorter-term charts. This is our plan, and we think that using the 1.04 level as a guide, will continue to trade this as a short-term market.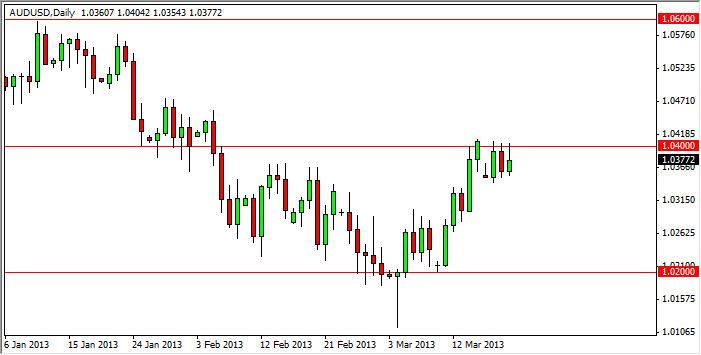 Written by FX Empire