The AUD/USD pair fell during the session on Friday in order to trigger sell orders from the Thursday shooting star. Because of this, it appears that we are failing at the center of the previous consolidation area, always a very telling sign. With this being said, it appears that the 1.04 level is acting as massive resistance now, which of course is not a good sign for the Aussie dollar.
The market has been consolidating for the last six months or so, and we have been bouncing from the 1.02 handle to the 1.06 level. This is a very significant area, and the fact that we continue to bounce around in it suggests to us that perhaps a significant move has to come. However, when a pair simply cannot make it back to the other side of a consolidation area, it quite often is the first sign that something is amiss.
Because of this, we do like selling the Australian dollar; also we have to keep in mind that the Asian economies seem to be slowing down on the whole which of course will have a massive effect on the Australian economy. The Chinese economy looks softer than previous, and as such the Australians will be exporting much less to the mainland and this will create less demand for the Aussie dollar in general.
Looking at this chart, we do expect a bit of support near the 1.03 area, which would be the start of the band of support down to the 1.02 handle. However, as things progress, we are seeing less and less optimism out there and feel that this pair could be a great way to express the "risk off" trade it going into the later part of the year.
There is an FMOC meeting next week, and as such there could be comments that would be very detrimental to the US dollar. If that's the case, this could cause the 1.02 level to hold as support in the end. Because of this, we are very cautious about holding onto this trade for far too long. But we do recognize the fact that a serious fall from this level could be coming.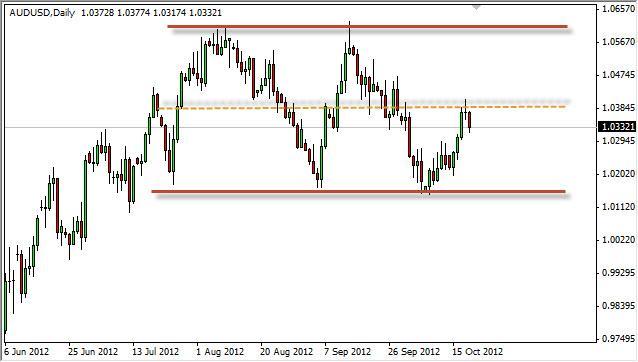 Written by FX Empire