Hello Traders in this blog we will be going through Avalanche which is a crypto related instrument. Since it's first peak from November 2021 to end a larger degree cycle in (I) it was been correcting lower. It appeared to to have reached equal legs area recently. Already it has been reacting higher from the area from 10.80. The market nowadays mainly is being traded by high frequency machines. That made us here at Elliott Wave Forecast to develop a system that allows us to project the market in a relevant way to match the way the market is being traded. Let's have a look on AVAX/USDT weekly cycle.
AVAX/USDT Weekly Cycle 02.21.2023

As we can see Avalanche made 5 waves lower from November peak in which ended a. That was the first leg of the corrective decline within larger degree (II). Then it bounced within b in a ((W)) – ((X)) – ((Y)) corrective bounce. And from there it started the potentially last leg lower in c within 5 waves lower. Ever since it broke below a we were able to project the equal legs area lower in which we call high frequency area. High frequency areas in which both sides of the market agree in the next direction of the market. Buyers and sellers fight and the winners control the next wave or cycle. Avalanche has reached the area in which starts from 10.80 to end (II) and we have already seen the first leg reaction higher in wave (1) of ((1)) of I.
What we can expect next in pullback in (2) to take place. Afterwards it should find support to extend higher within wave (3). And lastly a pullback in (4) and one more high in (5) to end wave ((1)). Pullback in ((2)) before extends higher in ((3)) then makes a ((4)) and a ((5)) to end I. After I ends a larger pullback in II should take place before further upside longer term.
Let's have a look as well within the daily cycle of Avalanche since it reached equal legs at 10.52 area.
AVAX/USDT Daily cycle 02.21.2023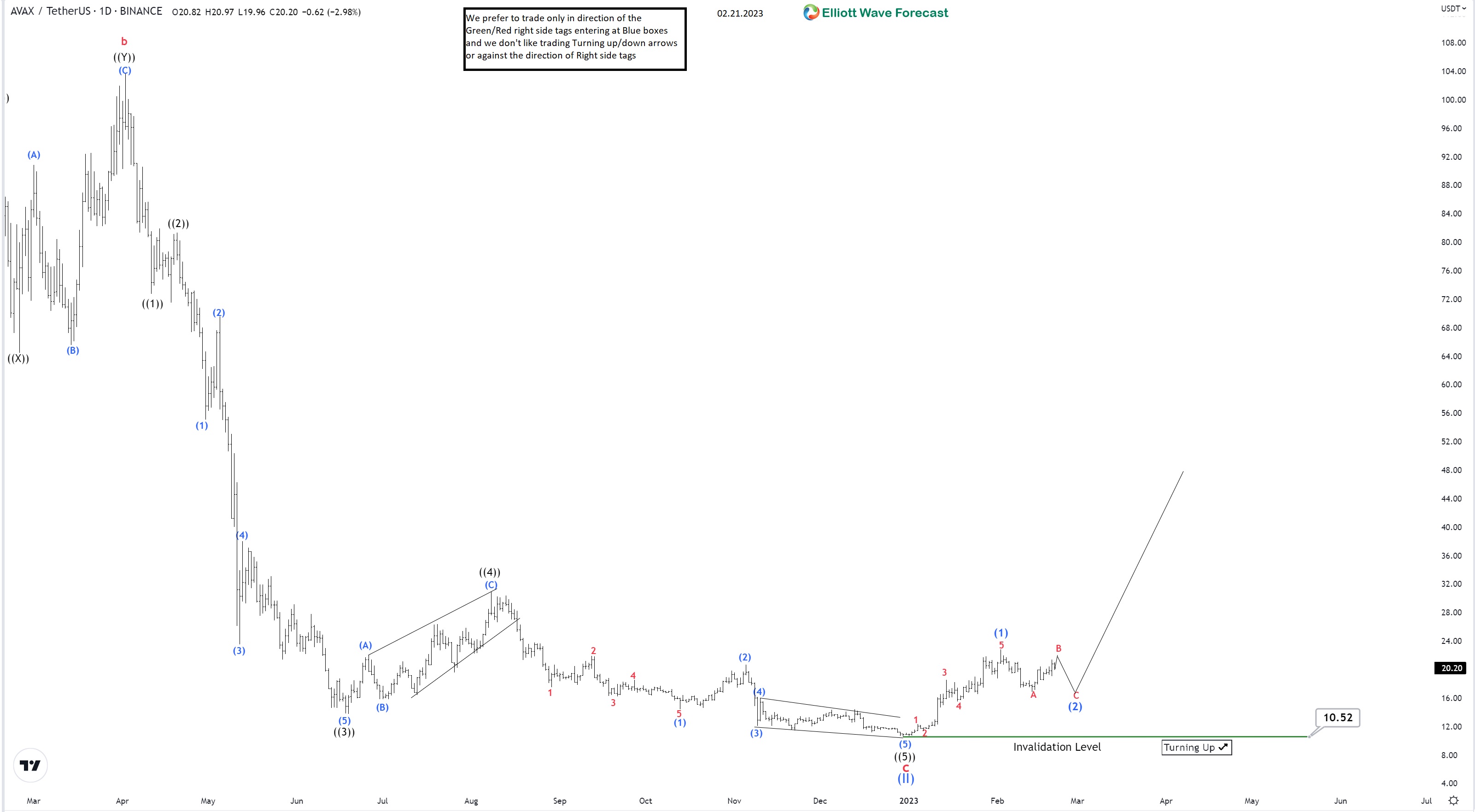 As we can see it has ended wave (1) and is trading within wave B of (2). After a new low in C of (2) it should find support to continue higher in wave (3). You can get long term analysis like that by becoming a member here at Elliott Wave Forecast. In our Group 2 instruments we do cover cryptos such as Bitcoin, Ethereum, Litecoin, Cardano, Matic & Dogecoin. You can learn how to trade the right side and when to enter and/or exit the market. Alongside with daily Live Analysis Sessions & Live Trading Room. On top of that we have a 24 hour live chat and chat room in which we answer any questions for each instrument. Click the links below to sign up or try first our 14 day trial.
Source: https://elliottwave-forecast.com/elliottwave/avalanche-wave-ii-reaching-equal-legs-may-provide-the-next-leg-higher/