WOOD tracks the S&P Global Timber & Forestry Index, a cap-weighted index of the 25 largest forestry firms around the world. The fund starts with all the eligible securities from the S&P Global BMI that are classified under agriculture, forestry, homebuilding, and paper industry.
ETF WOOD Daily Chart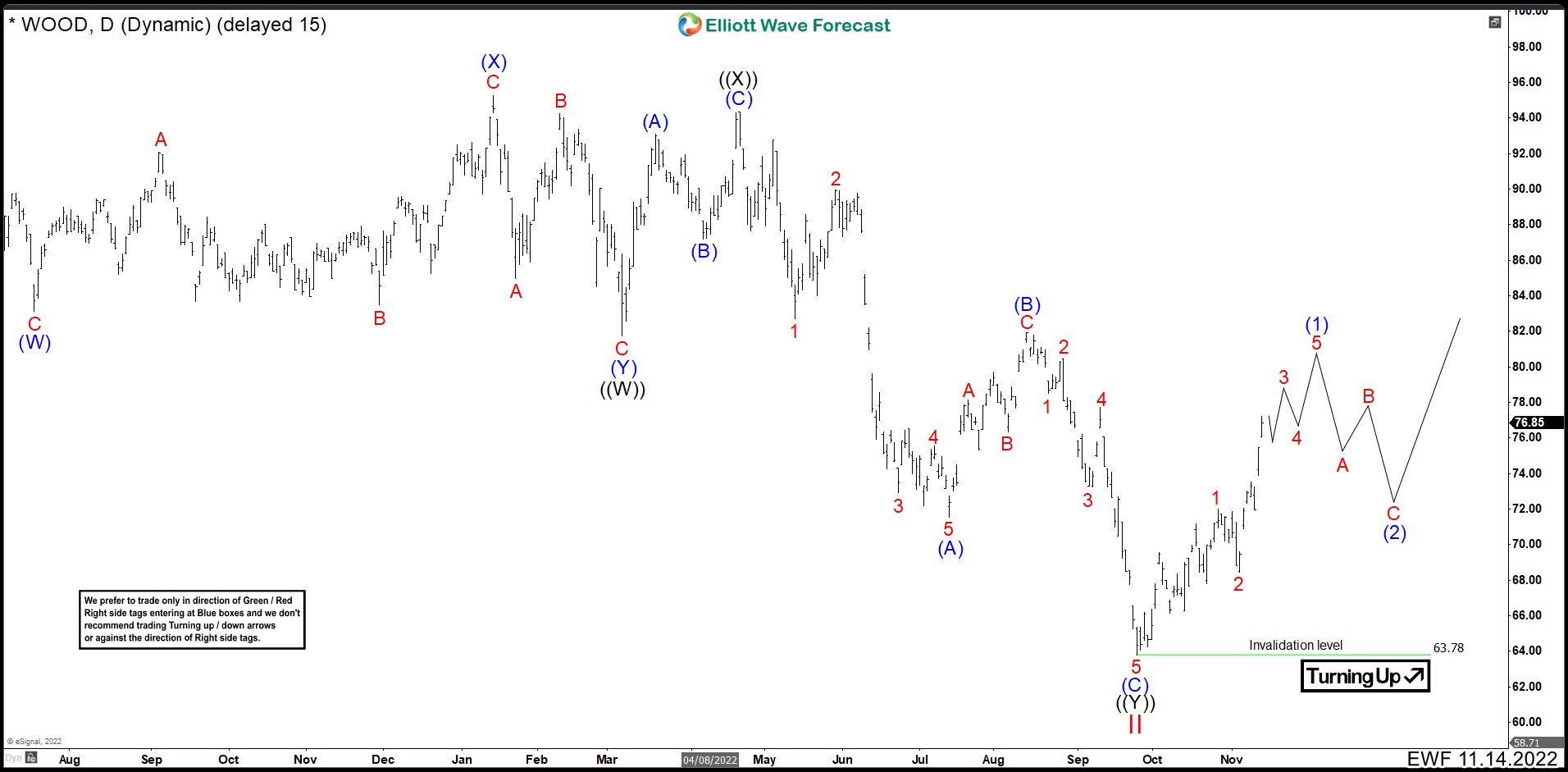 ETF WOOD ended an uptrend cycle in May 2021 reaching the 99.05 level. Since then, it began a corrective movement that was oscillating sideways for a year and then turned down. We have called the structure of this retracement a double correction ((W)), ((X)) and ((Y)), which ended in September 2022. (If you want to learn more about double correction or Elliott Wave Theory, follow these links: Elliott Wave Education and Elliott Wave Theory).
From 99.05 we can see that we had a double correction ending at 81.69 as ((W)). Connector ((X)) bounced in 3 waves ending at 94.35 to continue the drop. The decline started strongly, ending wave (A) of ((Y)) at 71.50 as an impulse. Then we saw a retracement (B) reaching 81.93, to fall again in wave (C). This completed a zigzag structure ((Y)) at 63.78 and wave II.
Since then, the rally has continued and appears to be building an impulse. Wave 1 made a leading diagonal that ended at 72.02. Wave 2 pullback ended at 68.51 and the market moved higher again. We now expect to complete an impulse as wave (1), as the chart indicates, and then see a retracement in 3, 7, or 11 swings as wave (2). This retracement must hold above 68.51 for the count to be valid and continue with the rally.
Source: https://elliottwave-forecast.com/stock-market/price-wood-started-rise/