Funko, Inc. ( FNKO ) is a pop culture consumer products company, which designs, sources & distributes the licensed products across the globe. It trades under FNKO ticker at Nasdaq.
Since 2017 in daily, FNKO made all time low at $3.12 during sell off across the global markets in early last year. Thereafter it started the higher high sequence as an impulse, which favored ended at 5/28/2021 high. And below May-2021 high, it is correcting the cycle against April-2020 low in proposed Zigzag structure.
FNKO – Elliott Wave View on Daily chart:
In daily, it started impulse sequence as wave ((1)) from 4/03/2020 low & ended at $7.78 on 6/08/2020 high. The ((2)) was dip correction as usual & ended at $4.72 low on 7/09/2020. Above $4.72 low, it started explosive move after a sideways consolidation & break out as ((3)) extension, which ended at $25.07 high on 4/01/2021. Thereafter ((4)) was ended slightly below 0.236 retracement against ((3)) at $19.10 low on 4/21/2021. Finally it ended ((5)) at $27.20 high on 5/28/2021 with minimum extension target. It started correcting the move against April-2020 low.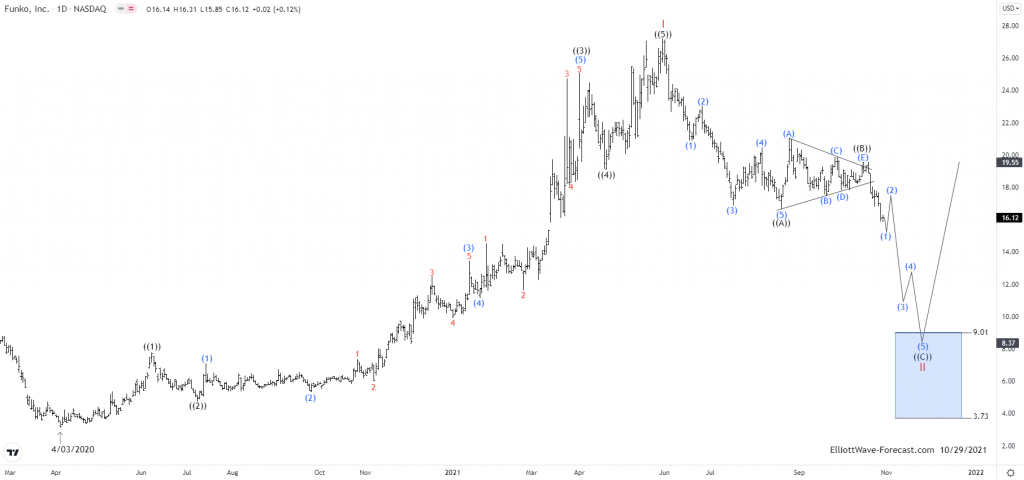 The correction started with first leg lower in impulse as ((A)), which ended at $16.67 low on 8/19/2021. The connector ((B)) was triangle as correction against ((A)), which ended at $19.57 high on 10/15/2021. While below there it expect to see further weakness in ((C)) leg lower as the part of Zig-zag correction from major top & expect to extend lower towards $9.01 or lower levels before it turn upside again. Alternatively if it breaks above $19.57 high without making lower low sequence, then it can extend ((B)) in an expanded flat correction before turning lower again.
Source: https://elliottwave-forecast.com/stock-market/elliott-wave-view-fnko-extend-lower/