The last time I covered this stock (article here) I was looking for a bit more upside to take place before pulling back.  The market decided the larger pullback was happening sooner than anticipated.  So lets take a look at the new view.
It should be noted that there are some company events taking place this month, notably, the $TYDE share dividend spin off. This event is happening later this month and may be providing a catalyst for the coming weeks ahead.
Vinco Ventures Ellliottwave View: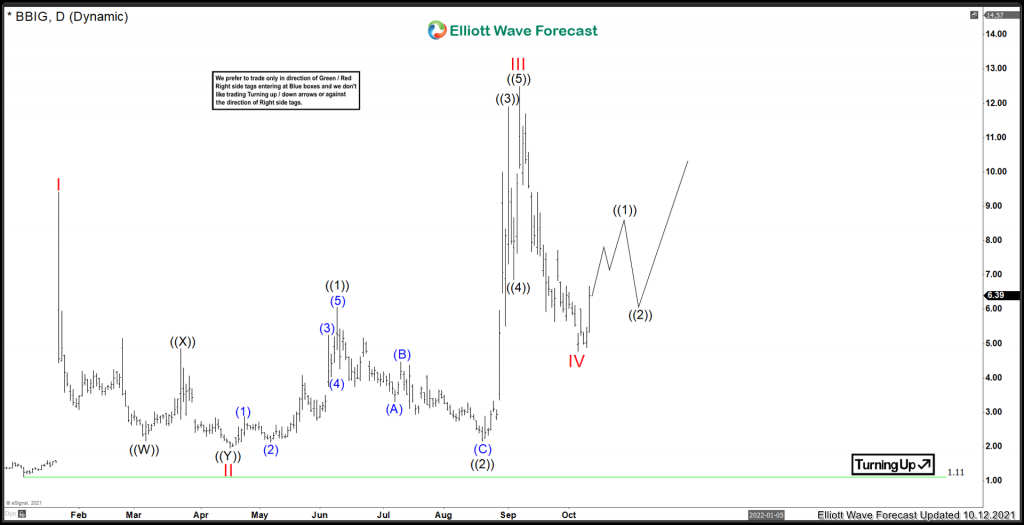 The view remains largely the same for Vinco Ventures, as the last time I looked at the chart. The bigger change is that a larger pullback has taken place in Red IV. The IV low is favoured to be set on Oct 6/2021 @ 4.77 low. Right now, a 5 waves move higher into ((1)) is favoured to take place. Currently the advance from the Oct 6 low is favoured to be in the middle of a wave 3 advance. After ((1)) and ((2)) are set the stock should be ready for a larger wave ((3)) higher.
With these meme stocks, it is important to expect extreme volatility, and to use correct position sizing.
Source: https://elliottwave-forecast.com/stock-market/vinco-ventures-bbig-ready-next-leg-higher/