Bitfarms is one of the worlds largest public bitcoin miners and has experienced an explosive move off the July 20/2021 low. Its recent listing to USA Nasdaq Exchange has only served to expose the company to more potential investors. Lets take a look at what the company does:
"Founded in 2017 Bitfarms is one of the one of the largest public bitcoin mining operations in the world. Bitfarms run vertically mining operations with onsite technical repair, data analytics and engineers to deliver high performance and uptime of operations.
Bitfarms has a diversified production platform with five industrial scale facilities located in Quebec. Each facility is 100% powered with environmentally friendly hydro power and secured with long-term power contracts.
Most recently, Bitfarms has announced it has mined 391 bitcoin in July 2021, and current mining rate is 12.5 to 13.5 BTC mined per day."
Bitfarms Elliotwave View: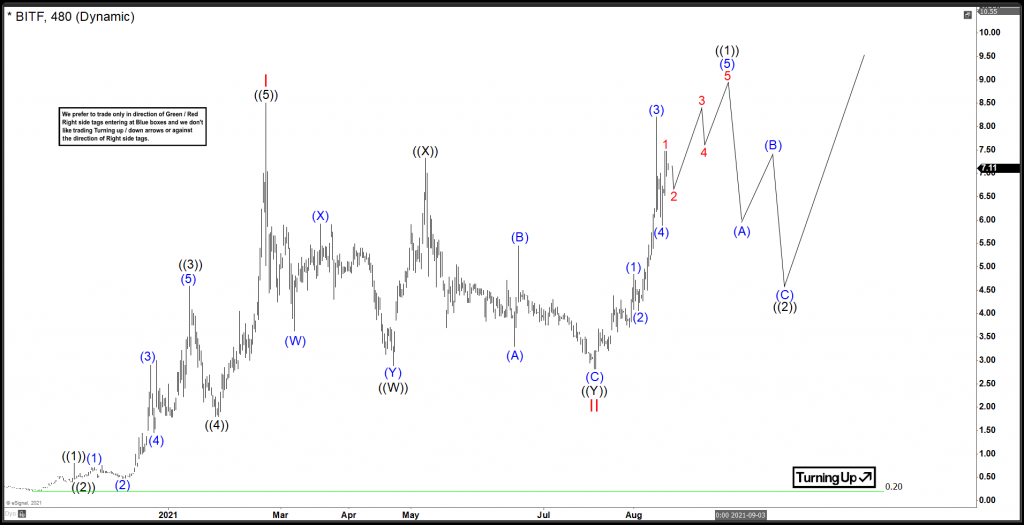 Medium term term view from the all time low in October 2020. Bitfarms rallied in 5 waves before finding a peak in February 2021 at $8.50. After that, a complex multi month correction has taken place in a double zig zag pullback. This pullback ended on July 20, 2021. The July 19/20 cycle low has been a common low in many instruments, including many major tech names, and indices.
After that, the stock is acting impulsive and is still looking for further upside extension before correcting the cycle from July 20 low. What can be the upside target after Black ((2)) is set? If I extend higher for Red III, the area where the stock can reach is the 11.10 to 16.22 area. This is the equal leg 100% to 161.8% extension for Red III.
In conclusion, we do not like to chase, and prices are still currently within the middle area. It will remain in the middle until it makes new all time highs confirming the next move higher is underway. However, the depth of Red II and RSI readings suggest that the next cycle has already begun.
Source: https://elliottwave-forecast.com/stock-market/bitfarms-ltd-bitf-new-cycle-higher-commenced/