The Corona Virus has had its toll on the marketplace in general. But some select names have remained resilient through the decline, DraftKings is one of those names. Draftkings went public on April 24/2020. The announcement was made in December 2019 of a reverse takeover of an already public company. Prices reacted to that news in December 2019 before the company went public. So I am including that data on the chart, and in the overall count. Lets take a look at the company profile:
"DraftKings is an American daily fantasy sports contest and sports betting provider. The company allows users to enter daily and weekly fantasy sports–related contests and win money based on individual player and team performances in five major American sports (MLB, the NHL, the NFL, the NBA and the PGA), Premier League and UEFA Champions League soccer, NASCAR auto racing, Canadian Football League, the XFL, Mixed martial arts (MMA) and Tennis."
The chart is counting well from an Elliott Wave perspective, lets take a look at the 4H view.
Draftkings Elliott Wave 4H View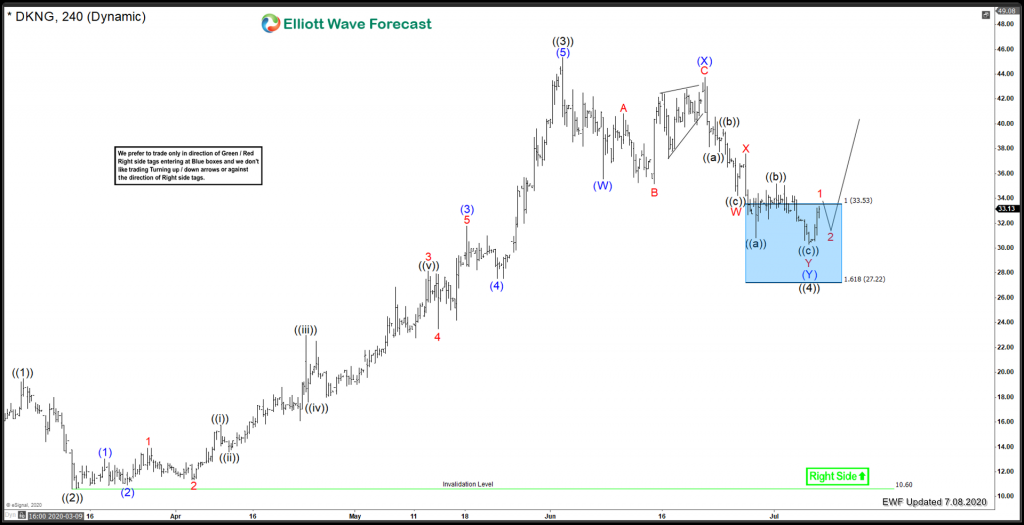 First off, it is important to realize that there is not much data on this chart, which only reaches back to December 2019. With that said, it is providing a technically clean picture.
Medium term term view from the December lows. Wave ((1)) is set at 19.50 on 3/04/2020 and wave ((2)) at 10.60 on 3/12/2020. After that, an extended Black ((3)) took place, which topped on 6/02/2020 at 44.79. After that, it is favoured that DraftKings has possibly set a bottom 7/07/2020 at a low of 30.45. Price action today suggests that the bottom could be set within the blue box extreme area. However it is still possible to get one more low to complete the correction. At this time with the Data present, it is favoured the bottom. If a new low does occur, as long as prices stay above 27.22 level (bottom of blue box) more upside is favoured to take place still. Near term, there should be a pullback in the next few sessions for a Red 2, before resuming higher.
Lets take a look at some upside targets that buyers could potentially take some profits for ((5)) of Red I.
DraftKings Daily Elliott Wave View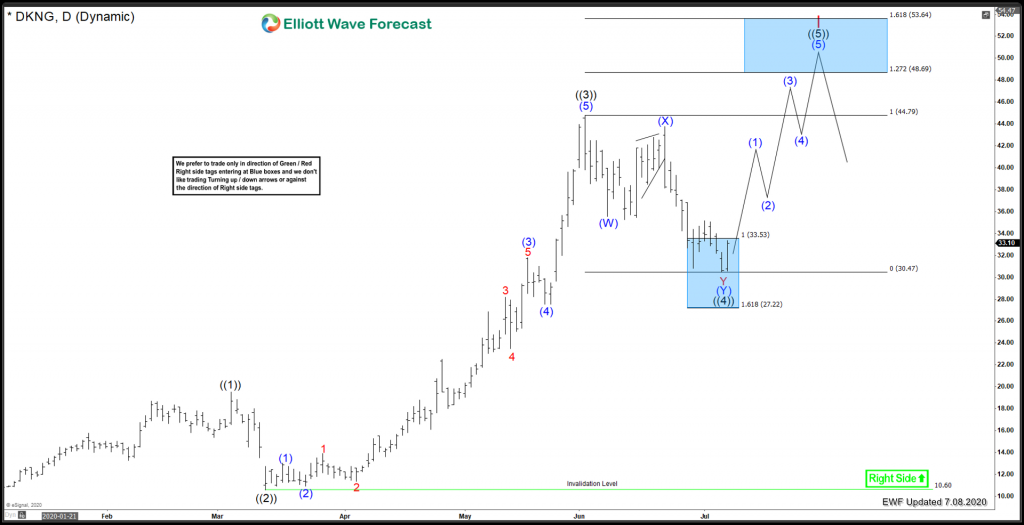 Since the start of ((1)) is a bit ambiguous due to the circumstances of this stock IPO, we cannot use a ((5))=((1)) measurement for a possible upside target. Another useful method for measuring is taking the previous swing correction, in this case from ((3)) peak to ((4)) low, and apply a fib extension off that depth. The 27.2 fib is the square root of 61.8. So for extensions, we will be using the 1.272, and the 1.618 extensions. This gives us a general area of 48.69 to 53.64, as an area where buyers may start to take profits for ((5)) of Red I. All this is assuming that there will be no new lows for ((4)), and the current low is set.
In conclusion, Draftkings is favoured to advance higher in a wave ((5)) of Red I. As it stands now the sequence is calling for one more high before a larger degree pullback may take place in Red II.