Swiss Franc strengthens on Tuesday, January 14 2020, after the US Treasury Department added Switzerland to its watch list for countries labelled as "currency manipulator" alongside other countries such as Germany, Ireland, Italy, Japan, Malaysia, Singapore, South Korea and Vietnam. This is not the first time Switzerland has been added to the watch list. In 2016, US added the country to the list after it abandoned its Euro peg. Two years later, in 2018, the US Treasury Department removed it from the list.
Swiss Franc has long been a safe haven for many investors when markets turn nervous. The Swiss economy has a large current account surplus that strengthens its currency. It has a very low debt-to-GDP ratio. In the past, Swiss National Bank (SNB) committed to capping strength in the currency through a combination of euro-buying market interventions and by holding benchmark interest rate at minus 0.75%. The inclusion in the watch list now likely will discourage SNB from intervening to try and limit Swiss Franc's strength in the forex market.
USDCHF Shows Bearish Sequence from April 2019 High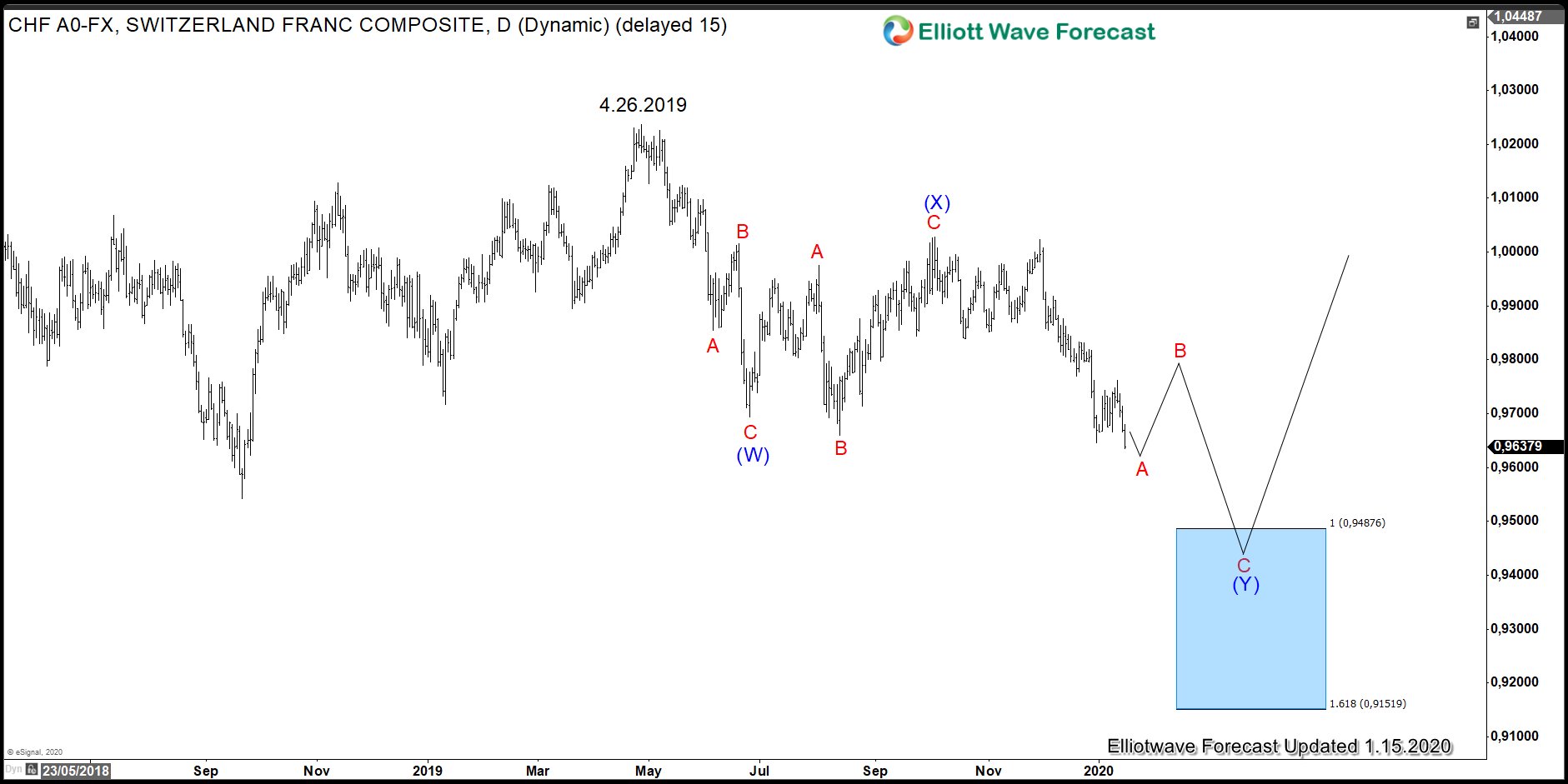 The Daily Chart of USDCHF above shows the pair has an incomplete bearish sequence from April 26, 2018 high favoring further downside. Wave A of (Y) remains in progress and could end soon. This should be followed by a bounce in wave B before resuming lower in wave C targeting the 100% – 161.8% extension between 0.9152-0.9488 area.
USDCHF 1.9.2020 1 Hour Asia Elliott Wave Update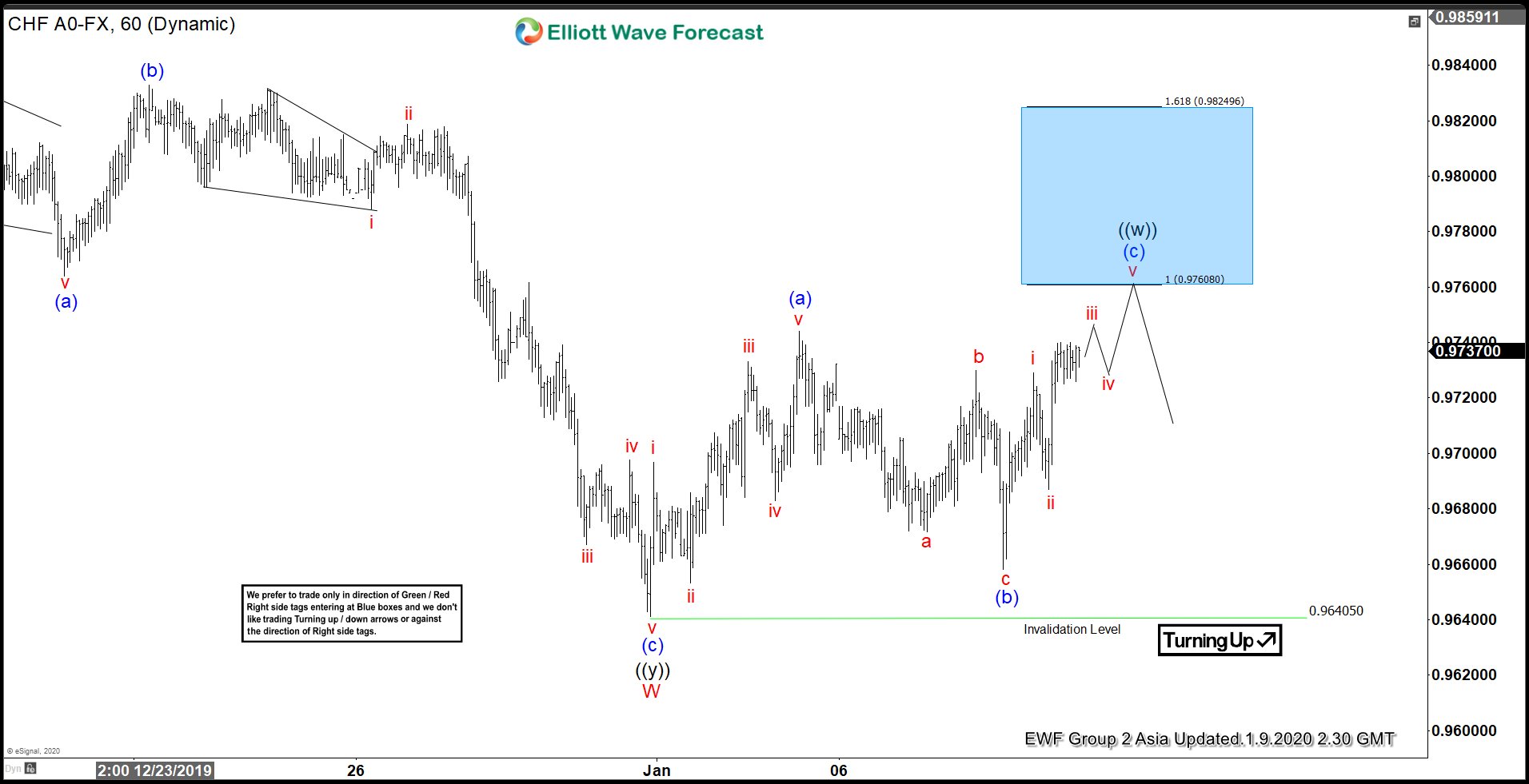 The chart from 1.9.2020 Asia update showed that USDCHF has ended the cycle down from October 2019 high. Wave W ended at 0.9640 low. The pair then bounced from that level to correct the cycle down. Wave (a) ended at 0.9744 and wave (b) ended at 0.9658. The 100% – 161.8% extension of wave (a) – (b) is between 0.9760 – 0.9825. This area was highlighted with a blue box. The blue box area is the area where we expect sellers to appear for an extension lower or 3 waves pullback at least.
USDCHF 1.16.2020 1 Hour Asia Elliott Wave Update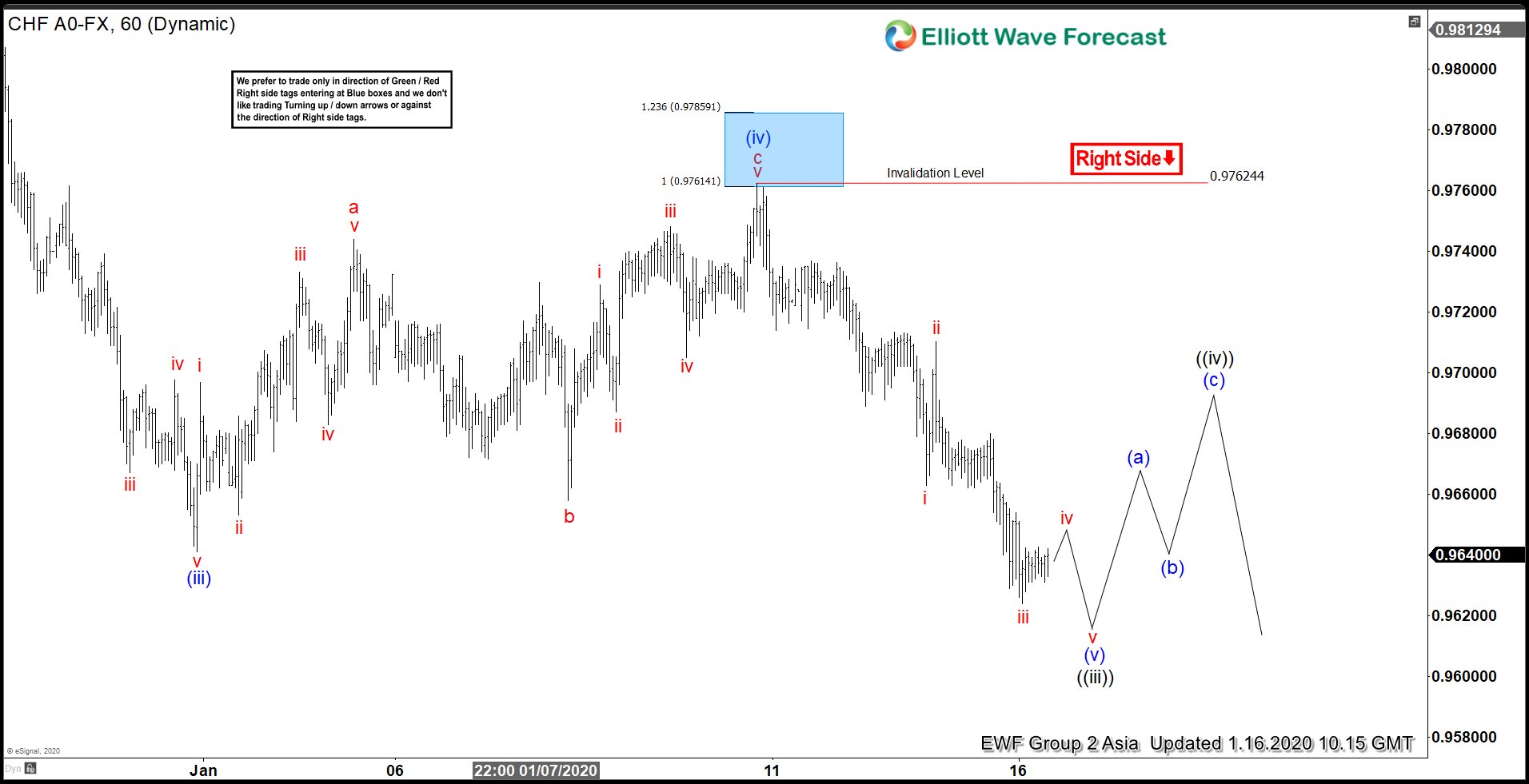 In subsequent update from 1.16.2020 above, the pair reached the blue box area, and it not only pullback in 3 waves but extends lower. We adjusted the count and now it ended wave c of (iv) at 0.9763 high. From there, the pair has broken below wave (iii) low and resumed its decline. Members who sold from the blue box area playing the hedging now have a risk free position and in profit. Near term, as far as 0.9763 pivot stays intact, USDCHF can still extend lower targeting the 100% extension in the Daily chart.