The EUR/USD pair fell precipitously for a third day in a row after the poor jobs number out of the United States was released. For the first time in two years, this pair is closing below the 1.23 level, and this does suggest that further weakness is just around the corner.
Looking at this, it is easy to suggest that the recent consolidation area between 1.23 and 1.27 has been violated. There are a slew of European economic announcements next week, and without any type of good news this pair should continue much lower. Looking at the charts, you can see that the very flag that we had talked about previously has been confirmed at this point, and it does look like a pair is measuring for he moved down to the 1.15 level. Although this seems pretty far-fetched at the moment, it should be kept in mind that this could happen over the course of months or even years as time has no bearing on these technical patterns.
As for buying the Euro, we believe that is the sucker's trade for the foreseeable future. Rather, we would simply fade bounces as they show signs of weakness or exhaustion. In order to even begin to think that this pair could climb with any significant gusto, we would have to see a daily close well above the 1.27 level. This is something that we do not see happening anytime soon, especially considering that the last 400 pips has been given up so quickly.
The markets are asking for fiscal union in the European Union, and until they get it we suspect this pair will remain bearish. Also, the bond markets in both Spain and Italy are currently suffering, and this will undoubtedly continue to weaken the Euro as well. All in all, even with the anemic growth of the United States is currently enjoying, it's not the European Union and that's what matters. Remember, Forex markets are simply measuring relative value between two currencies. In other words, no matter what you think of the US dollar – one of its biggest strengths is that it's not the Euro. We are selling rallies, and would sell a break of Friday's low.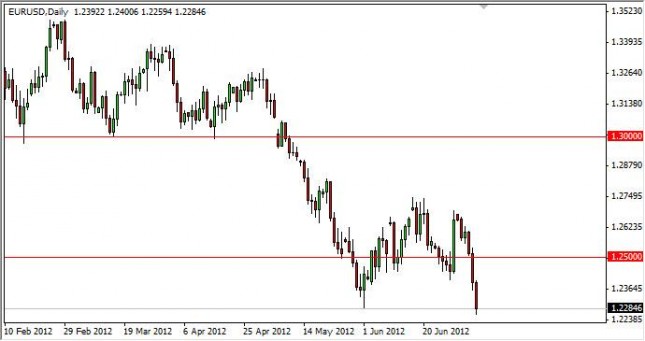 Written by FX Empire