The GBP/USD pair had a fairly tight range during the Monday session as traders returned from a relatively quiet weekend in comparison to the recent ones. The pair initially fell during the session, but did bounce back in order to form a positive hammer just below the 1.57 level. This sets up an interesting trade set up as the candle is either a hammer or a "hanging man" at this point in time.
The technical part of this trade is quite simple. If we break the bottom of the candle, it would become a hanging man which of course is very bearish. This would probably lead the market down to the 1.55 level before facing any serious support. If that level were to give way, we would probably see the 1.5250 level tested again as well. It is at that point that the long-term future of the British pound would be decided.
Alternately, if we break the top of this candle for the Monday session, it becomes a hammer, and this is a very bullish sign. However, with caution being the better part of valor, it makes sense to wait until the entire resistance level is broken through which in our eyes goes all the way up to the 1.58 level. If we were to get a breakout above that level, it would surely significant momentum changed in this pair, and also shows that the trading community doesn't fear the substantial Gilt buying that the Bank of England is expected to announce this week as another form of quantitative easing.
It is interesting however, to think that this pair is gaining as the market is also expecting more easing. This leads us to believe that the market has already priced this into the pair, and as a result more than likely won't react too much to the Bank of England and its meeting this week. Is because of this that we feel the bias is certainly to the upside at the moment, but we need to follow are technicals in order to confirm this.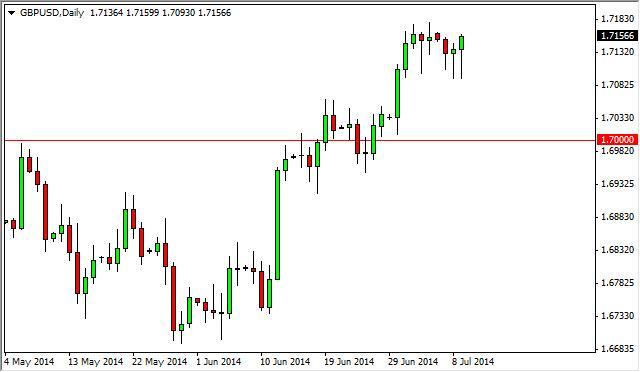 Written by FX Empire