The USD/JPY pair fell during most of the session on Wednesday again, but just like the Monday and Tuesday session, there was plenty of support once you got below the 92 handle. It is because of this, that we feel that the market is trying to send the signal to players that buying at this point in time is the prudent thing to do.
The fundamental story between each of these currencies has not changed over the last couple of sessions, and as a result we believe that we are in the presence of a nice buying opportunity. We still think that the 90 handle is without a doubt massively supportive, and as a result we think the downside risk is definitely limited.
On top of that, we like the shape of the daily candle for Wednesday as it is a hammer. In fact, so is the Tuesday candle, which of course is a very bullish sign when you get two in a row. You will notice that there is a very distinct area that the market simply cannot penetrate for any length of time. There have been three attempts over the last three days to break this pair down below 92, and each one is failed. If there is ever a sign that strength was to be had, this would be it.
Going forward, we think a break of the Wednesday highs is a strong signal to start buying again. In fact, when you look at this chart it isn't hard to imagine that we could consolidate back to the upper part of this area that we have been in since the beginning of February. If that's the case, we could see this market going to 94.70 in relatively short order. The real resistance is up the 95, which we feel will be over, as well, but certainly is going to take a bit of strength to do so. As things stand right now, it looks like the market is offering about two handles to the upside on a breakout from the top of Wednesday's range.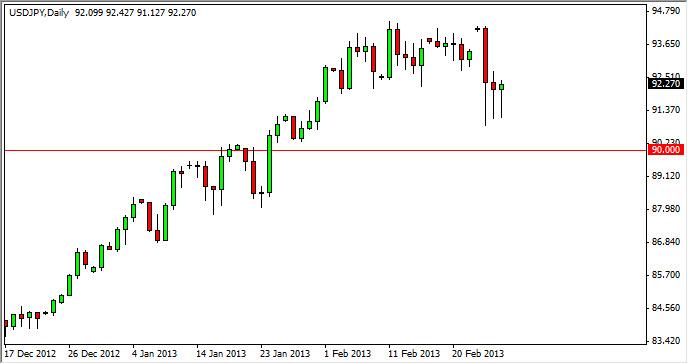 Written by FX Empire