Kohl's stock trades on NYSE under ticker KSS and has been public since 1992, showing growth and fluctuations.
Kohl's Corporation operates over 1,100 US department stores and is based in Wisconsin. The company was founded in 1962 and faces growing competition from online retailers. It's adapting to the changing retail landscape by expanding online presence and partnering with Amazon for returns.
Despite these efforts, Kohl's stock has underperformed compared to the overall market in recent years specifically since it's peak in 2018. As we can see in the weekly chart of KSS, the stock suffered a significant decline 86% from it's 2018 peak wave ((I)) which was a technical corrective Elliott Wave zigzag structure (a)(b)(c) finding major support at equal legs area ( blue box ) 19.32 – 9.87 in April 2020 to end wave ((II)).
Since then, KSS managed to establish an Impulsive 5 waves advance in wave (I) followed by another 3 waves correction in wave (II) ending in December of last year. Based on these structure, we can understand that weekly declines were corrective structures. The stock curved a Macro bottom in the recent years preparing it for the next weekly rally and it's expected to take it to new all time highs.
Kohl's Corporation KSS Elliott Wave Weekly Chart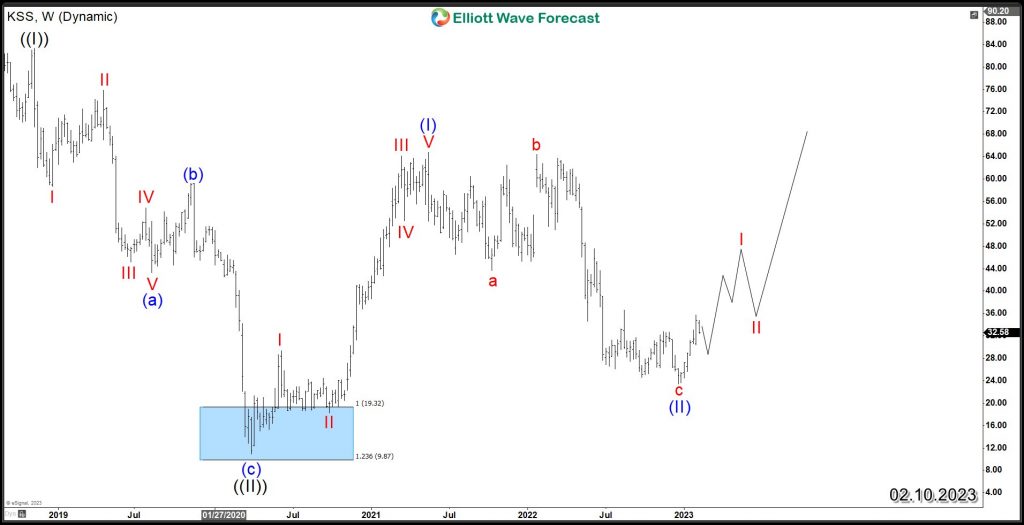 Coming from December 2022 low 23.38, KSS rallied within an impulsive structure wave ((1)). The move suggested that correction has ended and a new cycle has started. Consequently, the stock can establish a new rally to the upside as long as the next pullback of wave ((2)) remains above that low to create the rest of the impulse in wave (I).
Kohl's Corporation KSS Elliott Wave Daily Chart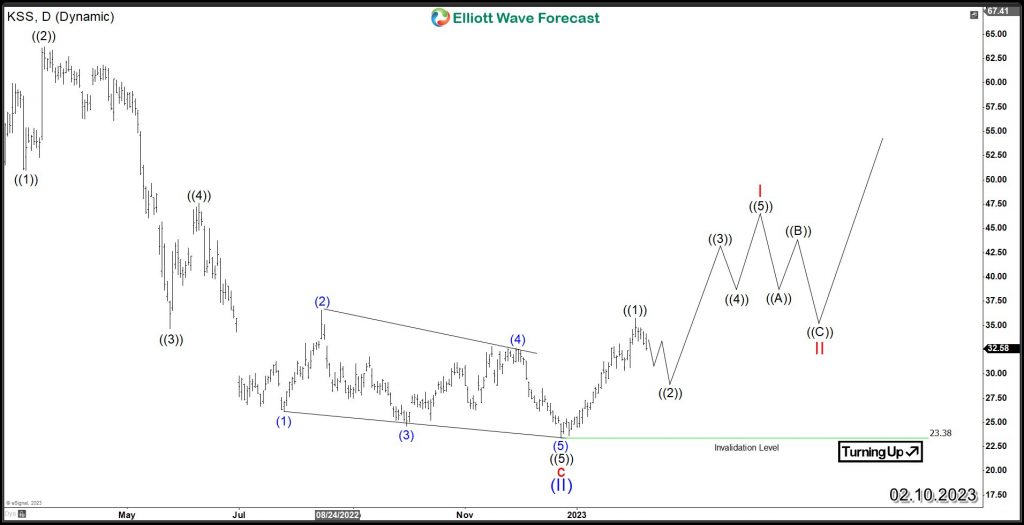 Kohl's may offer long-term growth for investors. It has a stable financial performance, with revenue around $19B and modest net income. Kohl's underperformed in recent years but has adapted to the retail landscape changes, which is reflected in its stock performance based on the Elliott Wave structure.
Source: https://elliottwave-forecast.com/stock-market/kohls-corporation-kss-macro-bottom/