EURJPY Technical Analysis
On March 30/2020 I posted on social media (Stocktwits/Twitter) @AidanFX "Will be watching for possible selling opportunities $EURJPY"
EURJPY 1 Hour Chart March 30.2020 : The chart below was also posted on social media (StockTwits/Twitter) @AidanFX March 30/2020 showing that a bearish descending triangle breakout pattern (black) was forming. I called for traders to watch for SELLS on the break below the triangle as long as price respects the moving average (dark blue) and to also watch for a break below the support level (black) on the bottom indicator (blue & pink). A bearish Momentum Breakout Pattern (light green) was also visible on the top indicator and on the price chart signalling that the bottom trend line of the triangle was a key breakout level.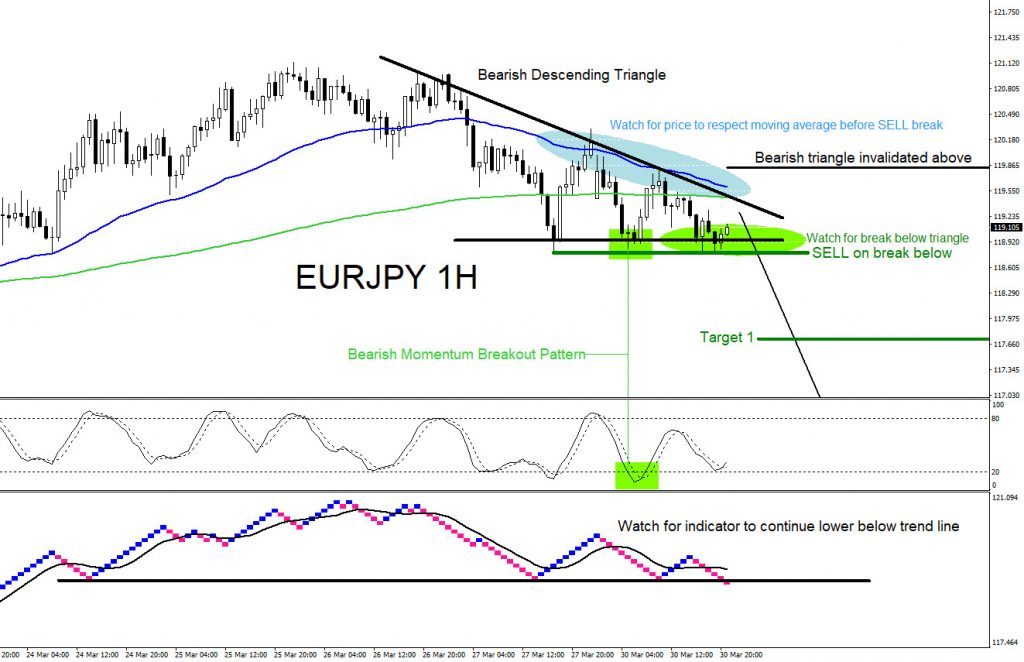 EURJPY 1 Hour Chart April 1.2020 : On March 31/2020 a bearish divergence pattern (purple) forms, price respects the moving average (dark blue) and EURJPY breaks below the triangle breakout pattern (black) and below the SELL break level (green). SELLS were triggered on the initial break and price did a retest of the breakout level after which became a support/resistance zone and signalled for more sellers to enter the market. Bottom indicator (blue & pink) also broke below the support trend line (black) confirming bears were in control. April 1/2020 the pair moves lower and hits targets 1 and 2 for a +180 pips where I eventually banked profits. If you followed me on Twitter/Stocktwits you too could have caught the EURJPY breakout move lower.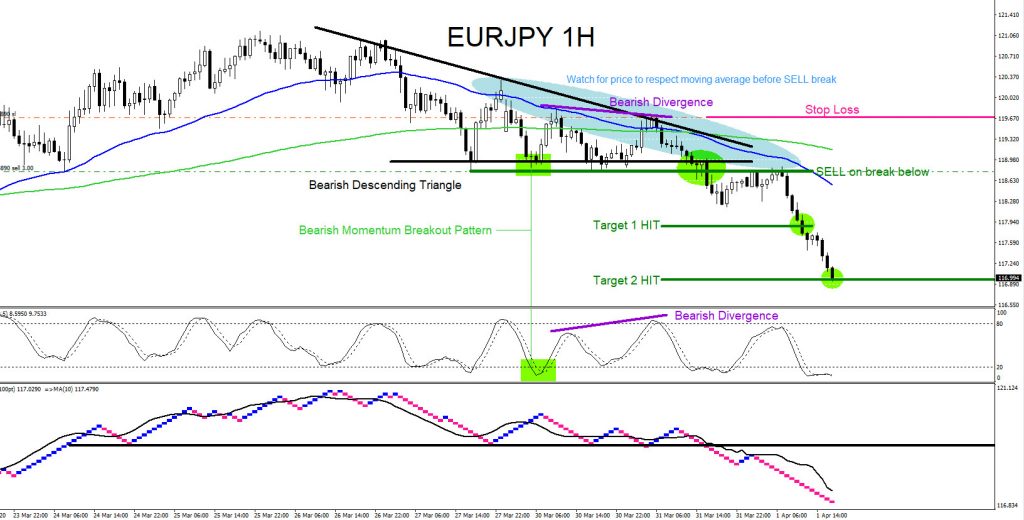 Of course, like any strategy/technique, there will be times when the strategy/technique fails so proper money/risk management should always be used on every trade. Hope you enjoyed this article and follow me on Twitter for updates and questions> @AidanFX or chat me on Skype > EWF Aidan Chan
*** Always use proper risk/money management according to your account size ***
At Elliottwave-Forecast we cover 78 instruments (Forex, Commodities, Indices, Stocks and ETFs) in 4 different timeframes and we offer 5 Live Session Webinars everyday. We do Daily Technical Videos, Elliott Wave Trade Setup Videos and we have a 24 Chat Room. Our clients are always in the loop for the next market move.