The USD/JPY pair rose during the session on Wednesday, but failed to break above the 100 level yet again. This area has offered quite a bit of resistance lately, although we think that it will more than likely be broken buying the bullish traders out there sooner or later. One of the biggest contributing factors is going to be going on during the session today, so therefore you will have to be especially astute to what is happening in Washington DC.
The Federal Reserve Chairman Ben Bernanke is testifying in front of Congress during the session today, and as a result there will more than likely be a lot of volatility in this pair. After all, the markets had recently priced then the idea of the United States tapering off of quantitative easing, which of course strengthen the Dollar. However, after the last FMOC minutes came out, it was shown that several of the committee members were a bit leery of tapering on quantitative easing as long as the unemployment rate was so high. So we essentially have the market trying to react to what could or could not happen at the Federal Reserve, and as a result Mr. Bernanke's testimony will be closely watched.
This market has a long history of following the differential between the 10 year notes from both countries. That being the case, if the interest rates are rising after Mr. Bernanke's testimony, there's a good chance of this pair will finally break above the 100 level, and continue going much higher. If that doesn't happen, there is also the possibility that we pullback from here and find support below. Either way, this pair will almost undoubtedly be affected by something that he says during the session.
It is because of that that we do not make any predictions at a time but rather wait until the daily close in order to make our next rate. If we close above the 100 handle, that is enough for us to start buying again. However, if we managed to close lower, we think this market starts to sell off again and we will simply wait for a buying opportunity at lower levels.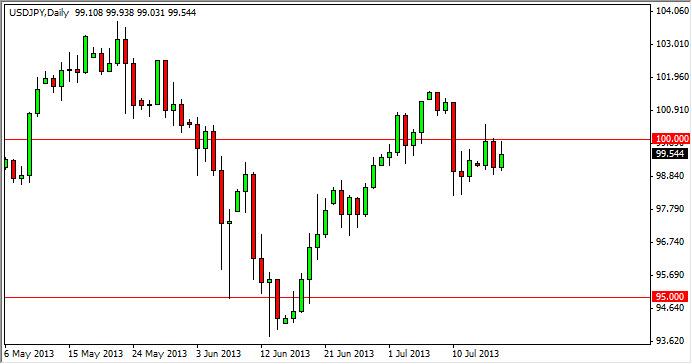 Written by FX Empire