AUD/USD had another positive session on Tuesday as the risk on sentiment continues. The market broke the top of the shooting star from the Monday session, and this is a fairly bullish sign. Also, the fact that we have not pullback after the massive surge higher on Friday does suggest that this pair is ready continue much higher. The 1.04 level above will be resistive, but more than likely it will be overcome at this rate.
As for selling this pair, we certainly wouldn't do so at this moment in time. In fact, we would need to see the parity level broken back under in order to think about selling again. It is obvious in both the chart in front of you, and the gold markets that the demand for Australian dollars should continue.
Since last week, we have seen a general return to the "risk on trade" and think that the Australian dollar will be one of the biggest beneficiaries. With the Independence Day holiday being today, this pair will more than likely be very dormant during the US session as traders simply will not be at their desks. By the time it is noon in New York, trading will have basically ceased at that point.
This pair is sensitive the headline risk, and as such it should be monitored as there are three major economic event between now and the end of the day Friday. The meeting buying the ECB, as well as the meeting by the Bank of England and the nonfarm payroll numbers will give the markets plenty to think about over the next three sessions. The real question becomes do the markets get what they want, and if so how will they react to it?
It is pretty much assume that the ECB will be cutting rates by 25 basis points. It is also assumed that the Bank of England will begin to purchase another hundred million Pounds worth of gilts in order to facilitate easing in that country. Either one of these two announcements going the wrong way: have a negative impact on the Australian dollar. And then of course, there's that pesky nonfarm payroll number on Friday which to play absolute havoc with it.
Looking at the charts right now though, it does indeed look like this market is expecting relatively good news. Because of that, we would only buy at this point and probably in the smaller than usual position size due to all the expected volatility over the next 72 hours.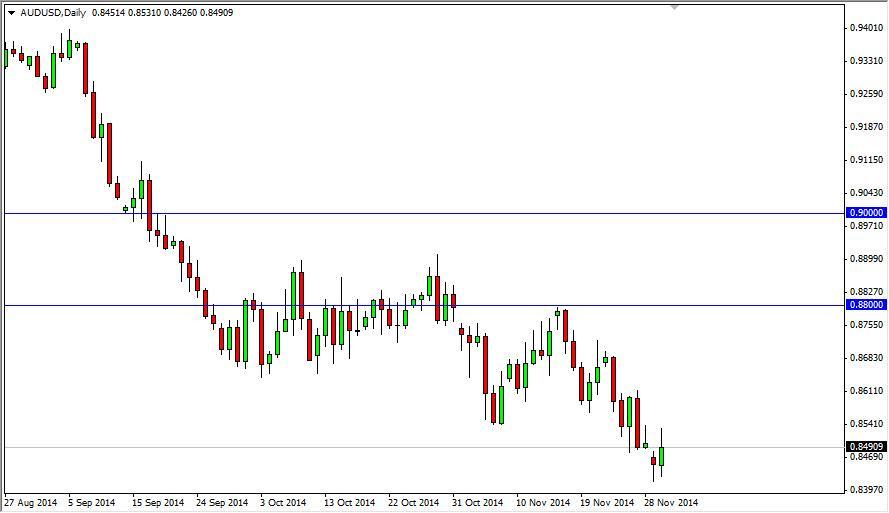 Written by FX Empire